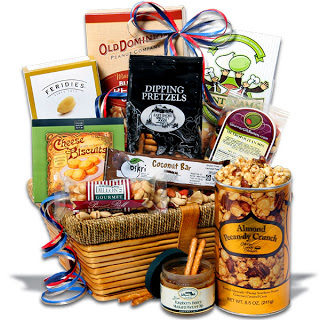 Gourmet Gift Baskets Review and Giveaway
By: Lauren
Photo above from their site. I do not own.
I was sent the Snack Gift Basket – Classic to review. All opinions are my own.
Review-
Gourmet Gift Baskets have a wide selection of baskets. I love that you can find something for pretty much any theme you could come up with. The Snack Basket I was sent came in a nice basket that you can easily use after eating the contents…and included a variety of snacks. One of the things I absolutely loved in this basket were the buttered pecan crunch. Oh my gosh, these were amazing. Each one is a small square so it's a quick and easy snack…but it really was one of those "eat one, and you don't want to stop" type of things for me.
My other favorite were the gourmet dipping pretzels (though really, any pretzel is sure to do) and the raspberry honey mustard pretzel dip. So so good! It's a unique type of dip that I've never seen before. Who knew dipping pretzels would be so yummy? It really is though!
This whole basket is a lot of fun though. I've been sharing with my family so we definitely eat different things. I'd certainly recommend this site, if not the basket (in case the items inside don't look good). Who doesn't love gift baskets?
Plus, if you click the picture of the basket (on the site) you can hit next and see each item on its own so you know exactly what is inside! I love that!
Giveaway-
Prize: The same basket I recieved!
Open to: U.S. and Canada
Ends: Friday, April 1 2011
To Enter: What basket from the site do you want?
Extra Extra!
+1 if you follow this blog (leave a new comment)
+1 for every non-giveaway post you comment on here – Shooting Stars Mag (leave a new comment for each)
+2 for every non-giveaway post you comment on here – Let's Get Beyond Tolerance blog (leave two new comments for each)