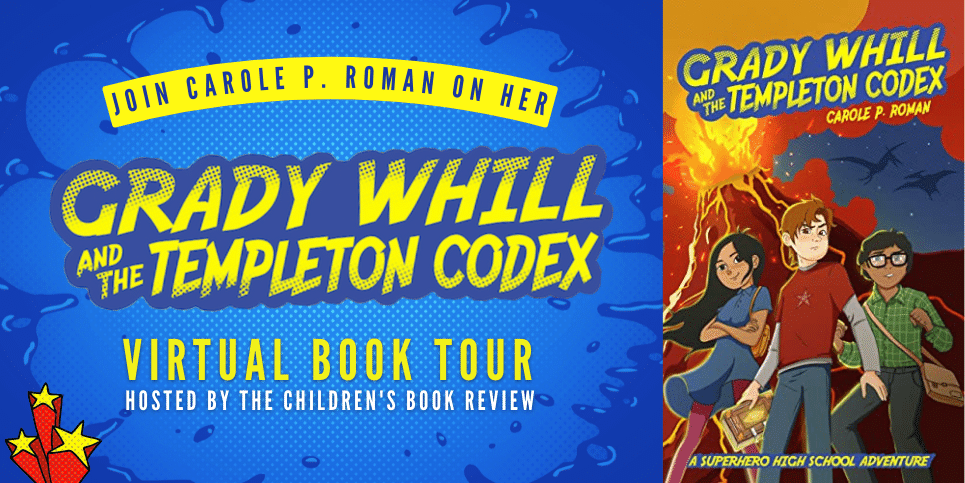 Sponsored post with The Children's Book Review and Carole P. Roman, but all thoughts and opinions are my own.
Welcome to my stop on the Grady Whill and the Templeton Codex Virtual Book Tour! I am excited to share an interview with the author, as well as the tour wide giveaway! 
Interview With Author Carole P. Roman 
What made you decide to write about superheroes?
I actually didn't know I was going to write about superheroes. My sons were kicking around the idea. One of them is a writer and then decided against it. I didn't want to write so much about superheroes as much as I wanted to write about the great potential that everybody has. I created Grady Whill with the notion that he was pretty ordinary and that the idea of being a superhero was completely unattainable for him. Then, I wanted us all to be on his journey with him, perhaps seeing ourselves in the process.
What formats will this book be available in? E-book, physical copies, audiobook?
Dan McGowan has done a great job with the audiobook. It is on Kindle and can be purchased as a paperback or hardcover.
Who created your cover, and did you have any input?
My younger son is actually in charge of covers. He has a vision of what he thinks will work. He picks a designer, and then we all choose the cover that embodies the story and characters. I love this cover. Leen Roslan did the artwork and did an amazing job.
Will there be other books about this superhero high school?
I started book two yesterday, and oh boy, you wouldn't believe what has happened!
What would you choose and why if you could have any type of superhero power?
I already have a superpower. I am a mom.
***
Thanks to Carole for taking the time to answer my questions. I love that her younger son is in charge of the book covers. Be sure to enter the giveaway below!
GIVEAWAY
Enter for a chance to win an awesome Dooney Press Gift Pack of books and more fun goodies!
One (1) grand prize winner receives:
– A signed copy of Grady Whill and the Templeton Codex
– A waxed canvas backpack
Nine (9) winners receive:
– A signed copy of Grady Whill and the Templeton Codex