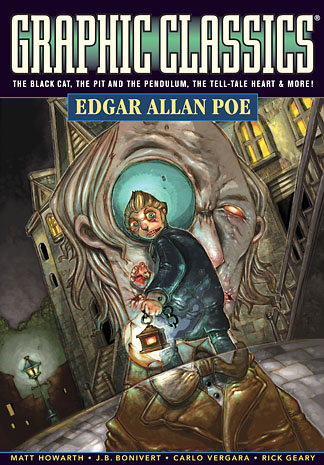 Graphic Classics: Edgar Allan Poe by Matt Howarth, J.B. Bonivert, Carlo Vergara, and Rick Geary
Review by: Lauren
Copy From: Publisher
Summary: The Graphic Classics books are essentially graphic novels but instead of being one original story…they take a theme or author and include a variety of stories. The Edgar Allan Poe novel, for example, uses Poe's classic short stories and poems and either includes the drawings with them or even shortens the stories so they fit in a graphic format. Included are The Imp of the Perverse, The Black Cat, The Cask of Amontillado, and more!
Review: One of my favorite stories was The Cask of Amontillado just because I found this book made the actual narrative make more sense. I just had a class this past semester dedicated solely to Edgar Allan Poe, so going over the stories/poems in there definitely helped when I looked over this book. However, as I said with Cask, I think using this a tool to learn about Poe or just enjoy his work is a great idea because the pictures and shortened narrative gives you a clearer view of what's happening.
As for the drawings, I think the poem Annabel Lee was done very well. It was very pretty, but not overly so, and the character's features reminded me of a fairly tale drawing. This definitely works well with the poem.
In all, I think it's great that different artists worked on this book because you're treated to various styles of art from more abstract to full-fledged bodies that make you think of a comic book such as in the William Wilson adaptation. Speaking of which, that is another story that made more sense to me in this book than just reading the actual story on its own…as it's originally quite long.
Apparently this is the time of Edgar Allan Poe with some Poe-esque books coming out (or so I hear), a film about The Raven, and even a T.V. show…so don't delay in getting started on your own collection!
pictures are not mine. the top one is the book cover, and the second one is the first page of the Cask in said book.