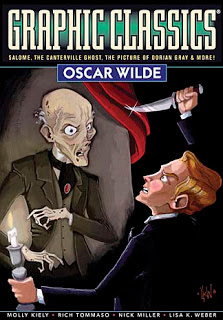 Graphic Classics: Oscar Wilde
Review by: Lauren
In the sixteenth volume of Graphic Classics, we are given some famous works of Oscar Wilde in a comic format. Starting with The Picture of Dorian Gray, they take a classic novel and break it down to its basic parts. While some of it might be a bit confusing for those not familiar to the actual book, it was still done very well. The illustrations were amazing, especially the difference in Dorian the man and Dorian the portrait, as you can see on the book's cover.
Next up, we have the short story The Canterville Ghost, which was a personal favorite. The story was funny and nicely told in the format. It definitely made me wish to go and read the actual story as well, which I think is a plus if these Graphic Novels can do that for other readers.
The third story was Lord Arthur Saville's Crime, which again, was amusing in that classic Oscar Wilde way. The drawings for this story perfectly fit the narration, as it's a lot more dark.
Finally, this book ends with Salome, which was probably my least favorite out of the entire book. This is in no way because of the writing or art, but rather, the storyline in general didn't interest me as much as the rest. One of my favorite parts was the page where Salome dances. The artist took the various moves and poses and lumps them all together in a way that turned out amazing. I definitely think they were correct in using this for the end of the book, which made the set up of all the stories nicely done.
Overall, Graphic Classics: Oscar Wilde was an immense pleasure to read. The writers and artists took a hard task and did it well. I'm a fan of Oscar Wilde myself, though I haven't read much by him as of yet. I believe that this book will be welcome in the homes of new and old fans, as it gives you a first peak into some of Wilde's famous plays and stories, as well as showing them in a new, modern way.
By the time I was finished reading, I couldn't wait to read more by Wilde, as well as more Graphic Classics.