Marbles: Mania, Depression, Michelangelo, and Me by Ellen Forney

purchase from the book depository, I'm an affiliate

Review by Lauren

copy from library, but all opinions are still my own

Official Summary: Shortly before her thirtieth birthday, Forney was diagnosed with bipolar disorder. Flagrantly manic and terrified that medications would cause her to lose creativity, she began a years-long struggle to find mental stability while retaining her passions and creativity.

Searching to make sense of the popular concept of the crazy artist, she finds inspiration from the lives and work of other artists and writers who suffered from mood disorders, including Vincent van Gogh, Georgia O'Keeffe, William Styron, and Sylvia Plath. She also researches the clinical aspects of bipolar disorder, including the strengths and limitations of various treatments and medications, and what studies tell us about the conundrum of attempting to "cure" an otherwise brilliant mind.
Review: I've been trying to read more graphic novels and what made this one even more interesting for me is that it's a graphic memoir. I think this is a wonderful medium for more people to read about real people.
Ellen Forney is certainly an eclectic person who loves her art and doesn't want her newly diagnosed bipolar disorder to affect what she can do. It's a legitimate worry, as many people hear about classic writers using drugs and alcohol while working on their greatest pieces of writing. I believe Forney felt that her disorder worked in a similar fashion. Allowing her mania to run free was like being high on drugs. However, with the mania comes the depression and it's important that Forney learn to adapt to her disorder and not let it run her entire life.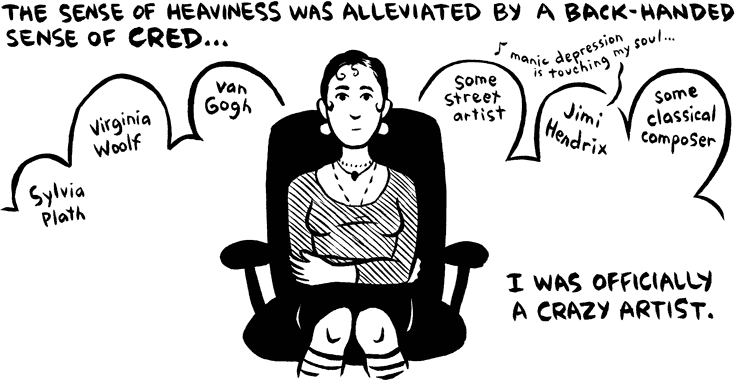 page from the book
Forney begins to research famous artists in various mediums who were known for or thought to have a mental disorder. Did this allow them to create the pieces people remember today? Even so, is that reason enough not to get the help you need, which might include medicine?
Overall, this is a quick read…though I find that to be true of most graphic books. Forney's illustrative style is a bit on the cartoonish, quirky side, but it definitely works! I thought her story was interesting and I found myself learning things as the book went along. I appreciated that Forney was honest about her problems surrounding her disorder and even the ways she didn't adhere to doctor's orders.
I'm definitely glad to have read this one.