Note: this is a sponsored post with The Children's Book Review and Jay Dee, but all questions are genuine, and I think this is an amazing book to support.
Seven artists came together to create Grow Through It in four weeks. Who had the original idea, and how did everyone else come on board?
The spark for the project was a feeling of wanting to help. From there the first thing to crystallize was the idea to publish a book to benefit coronavirus relief efforts. Since in those early days it remained very unclear how long we would be in the lockdown situation it became clear that this project needed to happen fast; so I sat down to write the first draft of Grow Through It.
Looking back at the first draft it's fun to see which elements made it into the final draft. One thing that did not was to have the entire book be a physical comparison of GET vs. GROW through it (left pages GET, right pages GROW). That idea became so confusing for adults to follow that it was clearly too much for a children's book! Still, I liked the draft enough to decide I could rewrite and edit while illustrations happened.
Fortunately I've published several books before (www.KraineKreative.com), and while each of those had taken anywhere from 1-3 years, I felt like I at least knew the steps to get it together. I reached out to JAKE! And Darren who I'd worked with on my first children's book and other novels. They were both really excited about the project and connected me to Feras. Ishmam and Mike were connections through DeviantArt, and I reached out to Axel who was posting some amazing copic marker art in a Reddit thread for a video game we both play (holding down analog creation for the group!).
100% of the book's proceeds will go to coronavirus relief efforts. On the book's website, it mentions all the good that UNICEF is doing. Will all the proceeds benefit just UNICEF or more than one relief effort? If just UNICEF, why was this organization chosen?
We had a zoom call discussing some of the options and we agreed on a few principles that guided us: A) we wanted an organization that was global in nature since we were spread across the globe too; B) we wanted a cause that was focused on helping children impacted by coronavirus.
While UNICEF clearly fit our criteria we were all really impressed by their quick response. From providing supplies, to creating and distributing educational information, to applying their core mission of providing health care and immunizations, safe water and sanitation, nutrition, education, emergency relief and more.
With multiple illustrators working on the book, how did this collaborative process work?
Lots of emails, phone, and video calls! First we divvied up the pages, more challenging since their order and words changed alongside the editing process. Darren created a visual character profile based on my written description, and then six illustrators all discussed more details like color and prop specifics (Feras had the idea for the unicorn tent; Ishmam had the idea for the little plant in each image). All that was to make sure we didn't confuse the reader by having major elements like race, clothing, props changing from page to page.
Still we didn't want to streamline everything. Part of the charm was in the different styles and interpretations. So specifics like hair length and "Which purple?" were left up to each illustrator.
One of the coolest organic ideas was between JAKE! and Axel who worked together on the two-page spread for the climax: Ellen's show for grandma. Instead of splitting up the pages left/right they decided to split elements of the image and stitch it together digitally. Ultimately this created an awesome, unplanned metaphor for things coming together at the end of the story.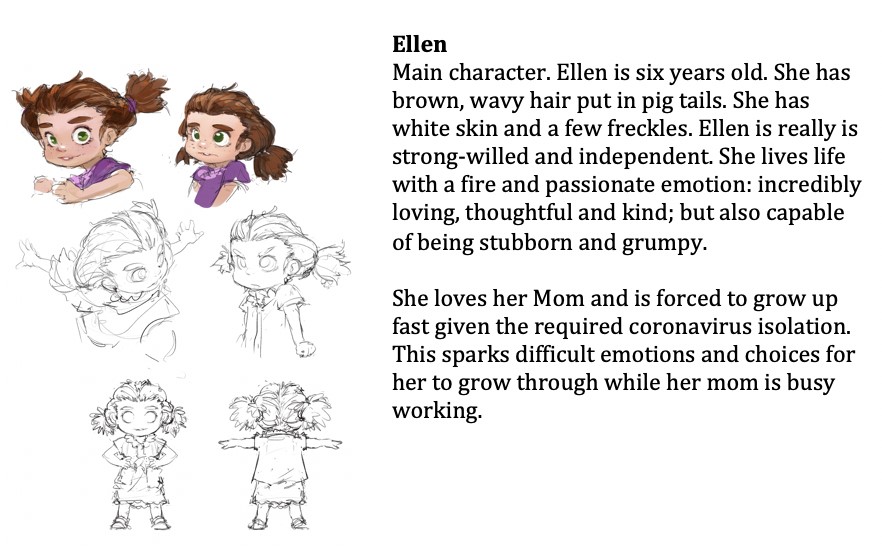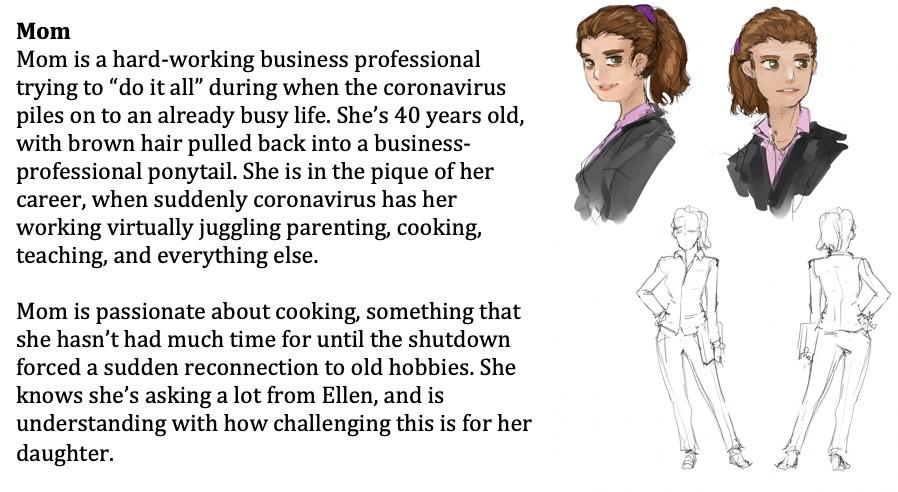 The ultimate message of the book seems to be that if you start your day with a goal or something to be grateful for, then things will be easier to handle in this extraordinary world we currently live in. Is there anything else that you hope children – and even adults – get out of Grow Through It?
As a certified coach, one of the best kept secrets is that Executive Coaching, Life Coaching, Career Coaching, etc are all the same. The key is in living intentionally and getting good at changing habits. With this being so tough for adults, it might seem like it's not worth broaching the topic with kids, but in reality—like learning a language—kids have this remarkable ability to soak things up.
Helping kids wake up and decide how they want to live their day can be a transformative habit for the rest of their lives, well beyond coronavirus.
Because the book focuses on gratitude, what are some things you are currently grateful for?
It sometimes feels like there is much more to be sad about and much more to be thankful for these days. Ironically though, many of the things to be grateful for have always been there, and now I'm just appreciating them as I should.
Health of family and friends. While my brother did get coronavirus he fortunately recovered just fine.
Work that is reliable and impactful.
Shelter that is not in jeopardy and provides a great, safe place to "shelter in place."
People that want to hop on calls to catch-up, play games, eat dinner virtually together, etc
My husband for helping and supporting my projects that balloon into major time + energy drains
My dog who is both loving and hating having me around the house all day
I'm also thankful to see Grow Through It out in the wild!
Grow Through It...a picture book with SIX different illustrators, and all proceeds going to Covid-19 relief efforts! Author interview + #bookgiveaway #ontheblog!
Click To Tweet
Giveaway!!
Enter for a chance to win a copy of Grow Through It, by Jay Dee and a group of six illustrators!
One (1) grand prize winner receives:
A paperback copy of Grow Through It.
A $50 donation will be made in the winner's name to UNICEF for COVID-19 relief efforts.
Nine (9) winners receive:
A paperback copy of Grow Through It.
Giveaway begins May 25, 2020, at 12:01 A.M. MT and ends June 25, 2020, at 11:59 P.M. MT.