Candace from the lovely blog, Candace's Book Blog, asked me to take part in the blog tour for author H.B. Bolton's novel, The Serpent's Ring. I asked her to talk about a museum exhibit, in honor of her book (find the summary below), in a guest post. I hope you enjoy! What museum exhibit would you want to "visit" in a more realistic sense?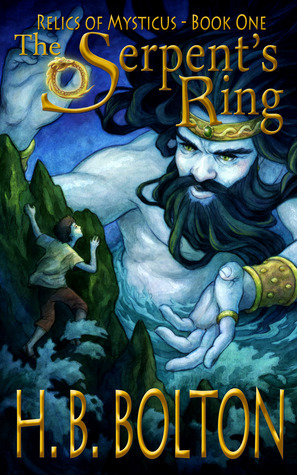 Book Summary- Evan and Claire Jones are typical teenagers, forced to go with their parents to yet another boring museum … that is, until something extraordinary happens to make their day a little more than interesting. After following a strange little creature into a closed exhibit, Evan and his older sister, Claire, discover the Serpent's Ring, one of the magical relics formed from the shattered Mysticus Orb. Purely by accident, they have awakened its powers and opened a portal to Sagaas, land of ancient gods.
Before the siblings can comprehend what has happened, the Serpent's Ring is wrenched from Evan's hand by an enormous bird and flown back to Aegir, the Norse god of the sea. Evan and Claire, accompanied by a band of unlikely heroes, must retrieve the Serpent's Ring before Aegir uses its immense powers to flood all the lands on Earth.
Guest Post by H.B. Bolton-
It Doesn't Hurt to Wonder
Somewhere, deep inside the Art Institute of Chicago, a treasure can be found — a treasure, neither of gold nor priceless paintings, but one created to delight children. Once upon a time, I stumbled into the Children's Gallery of this monumental museum, and what I found captivated me for hours.
Imagine a room filled with rich tapestries, exquisite furnishings and historical architecture that spans centuries. This was what I found in the Thorne Room. But there wasn't just one room; there were 68 rooms total, and not one of them reached higher than two feet. Each room was set inside the wall and protected by a sheet of glass — sigh — oh, how I yearned to be six inches tall and investigate! If somehow I managed this and was able to travel inside, I'm not sure where I would start. Each and every room, created and carefully constructed by Narcissa Niblack Thorne, was magnificent in its own way.
Perhaps I would have started in the 17th-century Spanish foyer, and gazed at the beautiful arches and wrought-iron chandeliers. I could have meandered into the 18th-century English dining room and sat on one of the Chippendale chairs, drank a cup of tea from a Chinese teacup, and nibbled on a few treacle tarts. After a relaxing afternoon, I would have rested for a bit in the 19th-century Victorian parlor. I would have stared at the portrait of Queen Victoria and wondered about the size of paintbrush used to create such a refined piece of art. I would have sunk into the comfortable ladies chair and read Pride and Prejudice. And later, when I was sleepy, I would have lain on sage-colored bedding and watched as a breeze brushed the lovely canopy.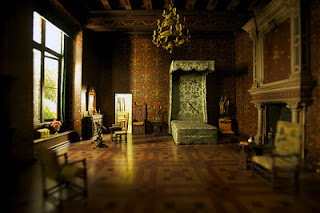 Early the next morning, I would have had breakfast in the Early American kitchen, enjoyed the flickering fire, and had a nice chat with a miniature woman from another era. She would have explained why there were glass "witch's balls" hanging beside the door (to keep away evil spirits) and taught me how to spin linen thread with her flax-wheel.
Unfortunately, I have yet to find a laser beam with the ability to shrink me down to the proper size … but it doesn't hurt to wonder.
***
H.B. Bolton's links are:
Website: http://www.hbbolton.com/
Twitter: https://twitter.com/h_b_bolton
Facebook: http://www.facebook.com/HBBoltonAuthor
Author on Goodreads: http://www.goodreads.com/author/show/6150459.H_B_Bolton