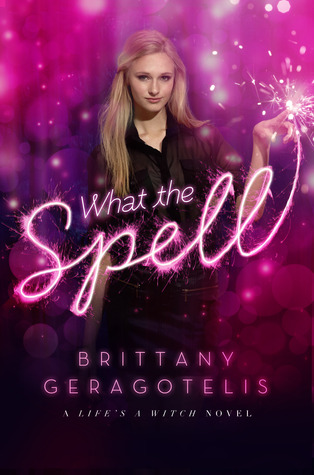 copy sent for review, but all opinions are our own
Review:

What the Spell? by Brittany Geragotelis
is the author's first published book. Her debut book is a fun story about a
girl named Brooklyn who receives her powers as a teenager. Brooklyn is a witch
who had her powers bound by her parents until she turned sixteen because they
believed she needed to learn how to live life without magic. Before she turned
sixteen, Brooklyn was not popular and she didn't have any friends besides her
school guidance counselor. On the day she receives her powers, she decides to
change things up. She gives herself a magical makeover and is barely
recognizable at school the next day.
Her
new look gets her noticed by the Elite, a group of popular kids who rule the
school, and by the handsome Asher. Brooklyn's world starts changing
immediately. She begins to do tasks for the Elite to prove she can be loyal,
but the tasks start to compromise her morals. Things become even more
complicated when she realizes she has a special talent for setting people up as
a couple. She decides to match herself with Asher and this causes her to doubt
their relationship.
Her
popularity starts to overwhelm her and her secret life as a witch is becoming
compromised. Brooklyn soon learns that she may be over her head and that there
are more things to worry about than being a part of the Elite.

Geragotelis
tells an enjoyable story about a girl who has to learn who she wants to be as a
witch and as a person. There are times when Brooklyn does get annoying because
the reader doesn't agree with her decisions, but that doesn't ruin the story.
The great thing about the book is that it does leave the reader wanting more.
There are events that aren't explained and I hope this means there will be a
sequel.
***
And there will be… Life's a Witch comes out July 9, 2013!!