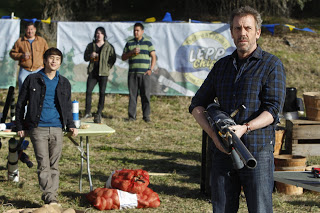 HOUSE M.D. photo credit to: JORDIN ALTHAUS / FOX
JUSTIN CHON…best known for his role as Eric Yorkie in the TWILIGHT film series will Guest Star on the critically acclaimed FOX series, HOUSE M.D. on Monday, April 11th (episode: "The Dig").
Justin is currently in production on THE TWILIGHT SAGA: BREAKING DAWN and ROCK JOCKS. He will begin production on DETENTION OF THE DEAD and just completed work on FROM THE ROUGH to be released in theaters in the Fall of 2011.
Tune in and watch JUSTIN on HOUSE M.D. this Monday night, April 11th at 8/7c on FOX!
There have been some interesting episodes of House this season. I need to remember to watch more often…but this is one I am excited to check out. Justin is in the photo above in the blue shirt, though I'm sure that's obvious. Congrats to Justin for guesting on House though. I love Hugh Laurie. He's a great actor.