Thank you so much to the Harlem Globetrotters and US Family Guide for providing me with tickets to enjoy one of the Cincinnati shows. All thoughts and opinions are my own.
Harlem Globetrotters: A Review
I attended the second Harlem Globetrotters show on Saturday, December 28 (there was a 2 p.m. and a 7 p.m.) in Cincinnati, Ohio. If you're interested in seeing them live, check out the schedule and be sure to use the discount code before buying tickets: SAVE 25% for ALL Harlem Globetrotters Games with promo code FUNFAM
This was my first time seeing the Harlem Globetrotters and it was such a fun event. I went with my mom, niece, and nephew, and we all had a really good time. While there is technically a basketball game being "played" – Harlem Globetrotters vs. Washington Generals – it's full of fun tricks, dancing, and a lot of theatrical moments.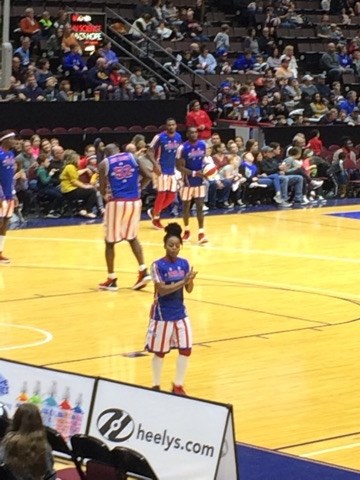 One of the things that I LOVED is that one of the Globetrotters is a woman. Does anyone else generally picture guys when it comes to the Harlem Globetrotters? Well, I did, and I was really excited to realize that while the rest of the team were men, there was one female and she was just as awesome. I loved all the tricks – throwing from far away, throwing with their back to the net, and much more. No, they don't always make the basket – it's not magic – but they do most of the time, and it's easy to see how talented they all are.
A Review (with photos and video) of the Harlem Globetrotters! #globies #ad #harlemglobetrotters
Click To Tweet
Along with the "game", there were lots of fun antics and amusing moments. I personally enjoyed the players' dance moves! During halftime, they even had some local groups come out and perform – there was a tae kwon do group, a dance group, and then another dance group that performed twice. All of them were amazing and it was fun to see local talent showing off their skills!
One of the things that my niece and nephew LOVED about the show is Big G, the giant inflatable mascot. There's another mascot too, but this one (because of the costume they're wearing) was able to do all sorts of cool dance moves. He was funny, and a definite highlight for all of us!
I could go on and on about the night, but it's fun to be surprised with some things, so really, if you can get to a show, I do recommend! It's a little less than two hours long, and it's fun for the whole family – whether you normally watch basketball or not.
Before I leave you, I wanted to share a couple short videos that I have from the night – Enjoy!! (oh, and feel free to follow me on Youtube. I'm going to try and share more videos there from events I attend). 
Local Tourist:
Tomorrow, December 31 is the link up with Dara and myself for Local Tourist. This is probably the biggest local event I attended in December, so I'll leave the linky below if you have your own posts to share! Happy New Year's Eve!
You are invited to the Inlinkz link party!