post includes affiliate links; I will get a small percent of sales at no extra cost to you!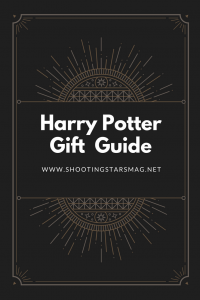 No matter where you are, I think we can all say "Thank goodness, it's Friday!" and since everyone seems to be enjoying all the Black Friday – and upcoming Cyber Week – deals, I thought I'd share another fun gift guide I put together that is all about Harry Potter. I included other HP items in my other guides, but this time, little old Harry is the main and only focus. I grew up on Harry Potter, so I'm one of those people that will take almost anything related to HP. Do you know anyone like that?
You're a Wizard, Harry: Check out my Harry Potter themed gift guide! #harrypotter
Click To Tweet
Remember, use your Ebates account if you want to find the best deals and earn money back! You're buying things anyway, why not save yourself some money? If you haven't signed up yet, feel free to use my affiliate link (you'll get $10 once you make a $25 purchase!) Before I get into all things Harry Potter, I'm going to share what the Ebates cash back is for certain stores (as I'm writing this; always double check): Walmart (6%), J.Crew (10%), Ulta (6%), LuluLemon (10%), Dell (15%), Kate Spade New York (10%), LivingSocial (8%), Kohl's (6%), and so many more!
****
If you know an HP fan that loves DIY or books in general, some options would be the The Unofficial Harry Potter Cookbook, Harry Potter Illustrated Edition – this is for the first book (the first three are out), Unofficial Guide to Crafting the World of Harry Potter, and more!
Some great HP gifts for the teenage fan: Popsockets Cell Phone Grip and Stand, Harry Potter Glasses Ring Wrap, or the Harry Potter Golden Snitch Clock. 
Know any foodie Harry Potter fans? There's the cookbook I already mentioned, but also the Williams Sonoma Gryffindor Spatula, or one of these Gryffindor or Slytherin tumblers!
You could even get some HP items for the home: Expecto Patronum Pillow Cover, Alohomora Door Mat, Marauder's Map Woven Tapestry Blanket, or even this really cute Harry Potter ornament!
Fine more options below, but tell me: anything catch your eye?