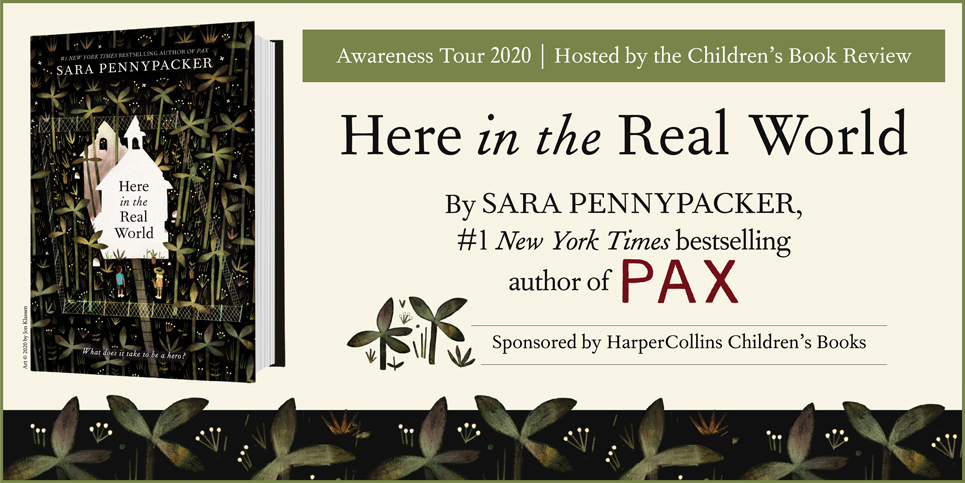 Here in the Real World by Sara Pennypacker
Review by Lauren
Source: copy of the book and sponsored post from HarperCollins and Children's Book Review; all opinions are my own
Official Summary (add to Goodreads): Ware can't wait to spend summer "off in his own world"—dreaming of knights in the Middle Ages and generally being left alone. But then his parents sign him up for dreaded Rec camp, where he must endure Meaningful Social Interaction and whatever activities so-called "normal" kids do.
On his first day Ware meets Jolene, a tough, secretive girl planting a garden in the rubble of an abandoned church next to the camp. Soon he starts skipping Rec, creating a castle-like space of his own in the church lot.
Jolene scoffs, calling him a dreamer—he doesn't live in the "real world" like she does. As different as Ware and Jolene are, though, they have one thing in common: for them, the lot is a refuge.
But when their sanctuary is threatened, Ware looks to the knights' Code of Chivalry: Thou shalt do battle against unfairness wherever faced with it. Thou shalt be always the champion of the Right and Good—and vows to save the lot.
But what does a hero look like in real life? And what can two misfit kids do?
Review: I love the premise of Here in the Real World. Ware is an 11-year old boy who would rather spend time on his own, imagining himself a modern day knight, than pretend to enjoy what other kids his age are doing. He's not lonely – he just likes to be alone. Unfortunately, his parents don't understand this and they just want him to be happy. Here in the Real World takes place over a summer when Ware is supposed to go to a Rec Center everyday while his parents work double shifts so they can purchase the house they are renting.
Ware eventually stops going to Rec, without his parents knowing, and instead, he hangs out in the abandoned lot next door. It used to hold a church – and while it still does, in a way, a lot has been taken out. Ware uses the church as his castle, and he meets a girl named Jolene who is creating her own garden in the back lot. Suddenly, the Summer doesn't sound so awful, and Ware enjoys Jolene more and more as they get to know each other.
Unfortunately, Jolene is someone who lives in the Real World. She's dealt with a lot of pain and tragedy and she doesn't think miracles can happen. As for Ware, he's definitely more in Fantasy Land – or as Jolene says, "Magic Fairness Land." Life's not fair, and Jolene knows this, but Ware wishes it were.
I liked getting to know both Ware and Jolene, and how their minds worked. I could understand both of their point of views in terms of seeing the world, but I loved that they had the abandoned lot to just be themselves and have fun. Of course, it can't be that easy, and there are some issues that arise that they have to face head on.
I found Here in the Real World to be a good middle grade book, but it definitely started off kind of slow for me. As the book progresses, it picked up steam, though it's definitely not a book full of action. It has a lot more introspective and imaginative moments. I feel like this would make a good book to read with a class, as you can take it slower, and it would lead to a lot of discussion.
Enter for a chance to win a Sara Pennypacker book prize pack!
Five (5) winners receive:
A hardcover copy of Here in the Real World
A paperback copy of Pax
Giveaway begins January 21, 2019, at 12:01 A.M. PST and ends February 21, 2019, at 11:59 P.M. PST.
Open to legal residents of the 50 United States and the District of Columbia, who are eighteen years of age or older in their state or territory of residence at the time of entry. Void where prohibited by law.
HarperCollins is responsible for prize fulfillment.