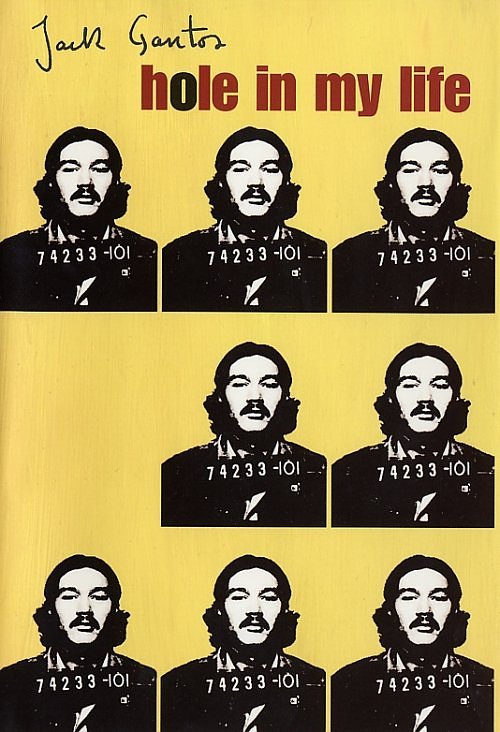 Hole in My Life by Jack Gantos
Review by Lauren
Source: copy from library; all opinions are my own

Official Summary: In the summer of 1971, Jack Gantos was
an aspiring writer looking for adventure, cash for college tuition, and a
way out of a dead-end job. For ten thousand dollars, he recklessly
agreed to help sail a sixty-foot yacht loaded with a ton of hashish from
the Virgin Islands to New York City, where he and his partners sold the
drug until federal agents caught up with them. For his part in the
conspiracy, Gantos was sentenced to serve up to six years in prison.

In Hole in My Life, this prizewinning author of over thirty
books for young people confronts the period of struggle and confinement
that marked the end of his own youth. On the surface, the narrative
tumbles from one crazed moment to the next as Gantos pieces together the
story of his restless final year of high school, his short-lived career
as a criminal, and his time in prison. But running just beneath the
action is the story of how Gantos – once he was locked up in a small,
yellow-walled cell – moved from wanting to be a writer to writing, and
how dedicating himself more fully to the thing he most wanted to do
helped him endure and ultimately overcome the worst experience of his
life.
Review: Jack Gantos is a writer of popular
middle grade fiction, but before he ever got to that point, he was
arrested for helping to sail a boat to New York City full of drugs in
order to earn ten thousand dollars. I read Jack Gantos last semester (in the fall) for
my children's fiction course, and this semester (the spring), I read Hole in My Life
for my young adult literature course. It was interesting to read how a
young man was able to drastically turn his life around. Young Gantos was
not a bad kid, but he obviously made some really bad decisions that led
him on his path to jail.
Much of the book focuses on Gantos finishing high
school and how he ended up meeting the people who were smuggling drugs.
It takes a bit to get to the parts about his time in jail, but I didn't
mind this. Honestly, I'm hesitant to read books set in jails,
especially true stories, but this was an assigned book, so I plunged in,
not sure what I would think.
Overall, I liked Hole in My Life. It's a short,
quick read that shows the consequences of one's actions, as well as the
necessity to have passion and positive goals in one's life. Despite the
lessons one can learn from this book, it never felt preachy. Each
chapter was almost like an essay in Gantos' life, where everything
eventually comes together to complete one full story. As for the
chapters about Gantos' time in jail, they were tough to read, but it was
helpful knowing he gets out of prison and ends up on a better path.