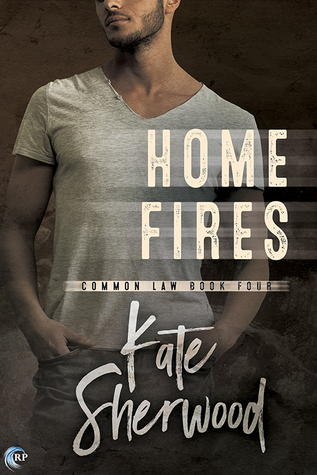 Home Fires by Kate Sherwood
source: copy from Netgalley; all opinions are my own
Official Summary:
Trouble comes to Mosely, Montana, from the outside world. When the residents of Mosely are left on their own, they can make things work. Sure, there's always been a militia operating up in the hills, but they were small-scale—just survivalists doing their thing—until organizers came in from out of state. Now Jericho Crewe and the rest of the sheriff's department are facing down a heavily armed band of fanatics, and the feds are busy elsewhere.
The odds are hopeless, but Jericho swore an oath to serve and protect the citizens of Mosely. He won't walk away from that, even if Wade Granger's begging him to run away somewhere and finally be together the way they always should have been.
But this time, it's Jericho who refuses to leave Mosely, even if staying kills him.
Review
: This is the fourth, and I believe final, book in the Common Law series. I never want to say too much about a book – especially one taking place later in a series – because I don't want to ruin anything for prospective readers. Therefore, I will simply state that I loved this book and I am a huge fan of the series in general. None of the books are terribly long, though each has its own set conflict or story arch, so it works well! You could definitely binge all these books in a quick amount of time!
I love the characters of Jericho and Wade – how they are seemingly on opposite ends of the wall, but they are still drawn to each other. We also get a different side of Wade in this one which I appreciated it. All these characters have layers, and each book just seems to peel back more and more about them. I appreciate well-written characters and Sherwood definitely delivers that! I highly recommend the Common Law series. While I think this might be the last in the series, there is something about the end that makes me think we could get a new sort of series and I really hope that's true! I'd grab it in a heartbeat.
Wake Up Call by J.L. Merrow
source: copy from netgalley; all opinions are my own
Official Summary:
South London mechanic Devan Thompson has gone to Porthkennack to track down someone he's been waiting all his life to know. But Dev's distracted from his quest by Kyle, a broodingly handsome local of only a few months, who's already got a reputation as an alcoholic because of his strange behaviour—including a habit of collapsing in the street.
Kyle Anthony fled to Porthkennack to escape from the ruins of his life. Still raging against his diagnosis of narcolepsy—a condition that's cost him his job as a barrister, his lover, and all chance of normality—the last thing he wants is another relationship that's doomed to fail. But Dev's easy-going acceptance and adaptability, not to mention his good looks, have Kyle breaking all his self-imposed rules.
When disaster strikes Dev's adored little sister, Kyle steps up to the plate, and Dev sees a side of his lover he wasn't prepared for: competent, professional—and way out of Dev's league. With one man determined that they don't have a future, and the other fearing it, life after Porthkennack is starting to look bleak for both of them.
Review
: As I went on Goodreads to grab the official summary, I realized that this is the first book in the Porthkennack series (which is the name of the town). However, each book is written by a different author. I thought that was kind of cool, so I figured I'd mention it! Anyway, back to Wake Up Call. I thought this was a really interesting story. I appreciated that the secondary characters had their own story lines. It created a community for Devan and Kyle, and it wasn't just about their burgeoning relationship. There is Ceri, a local waitress, who Dev befriends. There is also Dev's mate who comes in later in the story, as well as Dev's foster sister. Kyle didn't have as many characters around him, but readers do get to know a bit about his colleagues and his own family. At any rate, Kyle is supposed to be more closed off. He was a barrister (aka lawyer) before quitting and renting a cottage in Porthkennack because of a medical diagnosis of narcolepsy and cataplexy. In really simple terms, he can often – and quite suddenly – fall asleep. This scares Kyle, understandably, and he feels like everything he worked for is going to disappear. He's not in a great place when he meets Dev.
One thing that really made the book feel authentic to me is the dialect. Merrow doesn't shy away from showing readers how Dev speaks, including various slang, etc. This book is set in Europe, so there could be words or phrases the average American won't recognize, but I didn't think it was too difficult. Context usually helps. Regardless, I thought this was done well by the author and it helped show how different Dev and Kyle are, in terms of the "social ladder" so to speak. Dev is a mechanic and Kyle is a lawyer. They had very different upbringings. All these differences are issues they must face, but it wasn't done for unneeded drama. All in all, I thought the book was done well, and I'd be curious to see how the other authors handle the town of Porthkennack.