I hope you're all having a great week, and if you had yesterday off, did you do anything fun? Today I'm sharing The Hound of the Baskervilles graphic novel, illustrated by Dave Shephard. Spoiler? I really liked this version!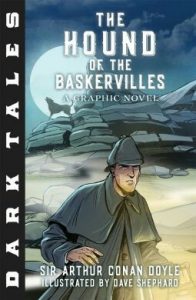 Dark Tales: The Hound of the Baskervilles: A Graphic Novel by Arthur Conan Doyle and illustrated by Dave Shephard
Review by Lauren
Source: copy from publisher; all opinions are my own
Official Summary (add on Goodreads): This classic "whodunit" story with the famous Sherlock Holmes and Dr. Watson is now told in graphic novel format. More than 100 pages of illustrated action and adventure! Sir Charles Baskerville, master of the Baskerville estate, is found dead at the gates with a look of horror on his face. Sherlock Holmes and Dr. Watson are called in to investigate the possibility of foul play. After several false leads, they solve the mystery and reveal the truth.
Review: I love graphic novel adaptations of classic books. There's just something about adding illustrations to these stories that make them a bit more exciting. I've actually read the novel The Hound of the Baskervilles, but its been years now. However, when I was offered the chance to review this book, I was immediately excited as I love all things Sherlock Holmes.
The Hound of the Baskervilles - in graphic novel form! Book review #ontheblog! #bookbloggers
Click To Tweet
I thought the graphic adaptation was done well. The story had to be trimmed down, of course, so the ultimate culprit seemed a bit too obvious. If you are reading this story for the first time, you might not want to start here unless you don't mind the mystery not being too much of a mystery. There are various possible suspects and the book clearly shows why they are suspicious, but again, in graphic novel format, there is only so much Shephard could show or explain without going on and on so just be warned that you might figure out "who done it" early on!
However, since this is an adaptation, I'm going to assume that a lot of you have already read – or at least know of – the story and therefore you are now interested in the illustrations. Shephard does a great job bringing these classic characters to life. I thought the coloring was chosen well – a bit darker and moody but still easy to look at and follow along! All the characters were created to look unique, which I love, as it can sometimes be difficult to differentiate characters in a graphic novel depending on the author's style.
Definitely a fun adaptation and perfect for any Sherlock fan!