Courtney also makes adorable prints at Prints Charming
She also reviews at www.howdear.wordpress.com


Review by Lauren
item sent for review; all opinions are my own
The owner, Courtney, makes the most adorable handmade quilts. I came across her etsy shop while browsing for unique guest book ideas. Courtney will custom make a quilt for you and then you can use a fabric pen to have guests sign it. I thought this would be fun for the baby shower I planned for a friend so I contacted Courtney to talk to her about her designs.
Unfortunately, she couldn't find any Tim Burton specific fabric, but I told her the basic colors were black, white, and blue, so she went with that and created the lovely baby blanket you see above! I think using just the colors worked out for the best because it can be used as a nice decoration once the baby has grown too.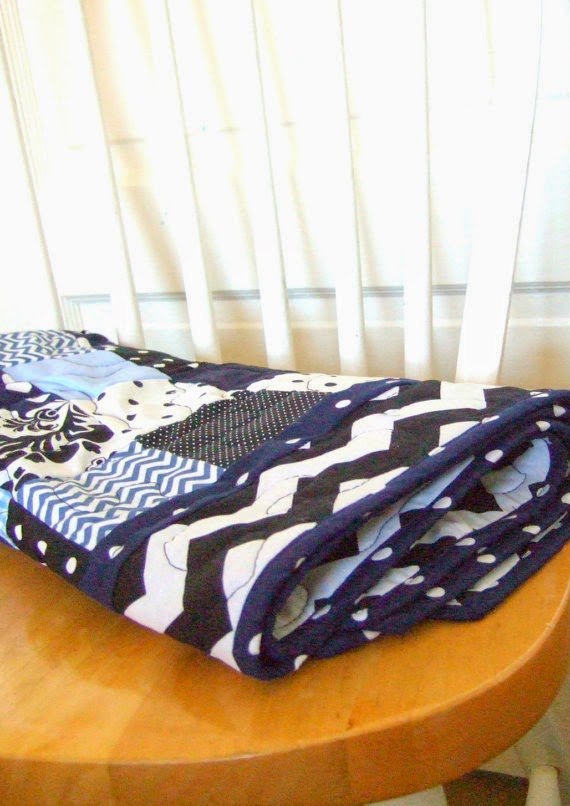 When I received the blanket in the mail, I decided not to use it as a guest book. Courtney said people have changed their minds before, and I realized that the quilt was just too nice to have people mess with it. I was afraid someone might spell something wrong or accidentally mark the wrong spot. I like the idea of a quilt guest book, but I think the actual blanket is wonderful enough as a gift. The price is also great too. Most of the baby quilts are only $70, plus shipping. I've seen similar items at a much higher price. Plus, if you want to give the quilt as a gift, you can split with another person and you're only paying about $40 each (with shipping).
I think the colors were well done and the quilt was beautiful to look at in person. Courtney did a wonderful job. When I gave it to the mom-to-be, she really loved it as well. I told her the story behind the colors and she seemed to agree that just using the three main colors was a nice idea. I think the fact that this was custom-made for her meant a lot as well. It's different than buying a blanket at the store, because you know you're getting something thought out and personal.
Courtney also offers throw-sized quilts, as well as custom quilted pet portraits that are just adorable! I'm afraid I was so excited about the quilt and giving it to my friend that I never took a personal photo of it, so all the photos I used here are ones that Courtney took before she shipped me the blanket! Thank goodness she thought to do that! I would definitely buy another quilt from Courtney in the future!!