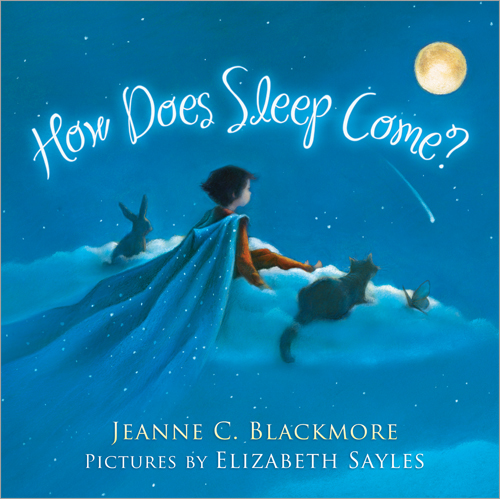 How Does Sleep Come? written by Jeanne C. Blackmore and pictures by Elizabeth Sayles

Review by Lauren

Copy from Sourcebooks, but all opinions are my own

Review: How Does Sleep Come is a lovely story for little ones. Jacob is going to sleep one night, but before he does, he asks his mom the title question. She goes on to tell him just how sleep comes…comparing it to snow and clouds and even a cat. It comes quietly and gently and all sorts of other ways. It's a very relaxing story, if you can't tell; perfect for a nighttime read!
One of the things that I loved about this book are the use of illustration. Inbetween each new way that sleep comes, there is a page where it says that Jacob yawns and stretches and even that he closes his eyes near the end. I like these pages because they utilize the part of the story just stated. For example, the first way that sleep comes is quietly like a snowfall…and you turn the page to where it says: Jacob snuggled under his covers. On the picture, you can clearly see Jacob lying in bed with some snow falling down on him. Each page of Jacob in bed is similar to this one, which I really enjoyed.
Check out the snow picture below or on the illustrator's blog: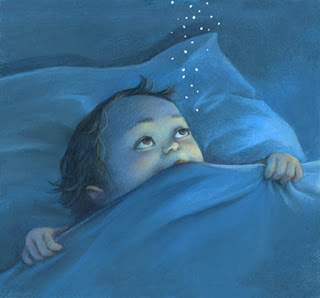 Like I mentioned above, this truly is a great book for nighttime. It's obviously all about falling asleep but the rhythm of the words throughout give a sort of lulling feel, perfect for putting a little one to bed. On the back of my review copy, they give you the last lines in the book and it perfectly shows what I mean-
Jacob closed his eyes.
And the snow fell.
And the fog rolled in.
And the clouds drifted.
And the cat purred.
And the butterfly alit.
And quietly, silently, softly, peacefully, gently, Jacob fell asleep.