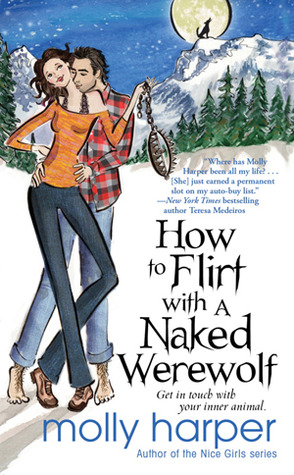 How to Flirt with a Naked Werewolf by Molly Harper

Review by Lauren

Buy through The Book Depository

bought a copy, but all opinions are my own

Official Summary: Even in Grundy, Alaska, it's unusual to find a naked guy with a bear trap clamped to his ankle on your porch. But when said guy turns into a wolf, recent southern transplant Mo Wenstein has no difficulty identifying the problem. Her surly neighbor Cooper Graham—who has been openly critical of Mo's ability to adapt to life in Alaska—has trouble of his own. Werewolf trouble.

For Cooper, an Alpha in self-imposed exile from his dysfunctional pack, it's love at first sniff when it comes to Mo. But Cooper has an even more pressing concern on his mind. Several people around Grundy have been the victims of wolf attacks, and since Cooper has no memory of what he gets up to while in werewolf form, he's worried that he might be the violent canine in question. If a wolf cries wolf, it makes sense to listen, yet Mo is convinced that Cooper is not the culprit. Except if he's not responsible, then who is? And when a werewolf falls head over haunches in love with you, what are you supposed to do anyway? The rules of dating just got a whole lot more complicated. . . .
Review: I'll admit, I'm not an expertise, but for me, Molly Harper is the queen of humorous paranormal romance. I loved her Nice Girls series which dealt with vampires, so it was exciting to finally dive into one of her werewolf novels. For those that are curious, there is another werewolf novel out now, and one being released in December. As far as I can tell, they are all companion novels…which I like!
Regardless, I'd start with How to Flirt with a Naked Werewolf which is all about Mo who has moved to Alaska to finally start her own life. She's miles and miles away from her overbearing parents and able to fully test the boundaries of freedom. For awhile, that mostly means working at the local restaurant (she's an amazing cook), fending off requests of love from the men who are used to seeing all the same girls, and trying to prove to the town of Grundy that she isn't just a part-time resident.
Mo has a lot to deal with without the confusion of Cooper Graham, who she learns is a werewolf, but that doesn't stop him from entering her life. Cooper is one of those alpha guys that thinks he's better off staying on the outskirts of town. Mo is quite fine leaving Cooper alone, since she's not up to dealing with his surly attitude. When she learns his secret, though, things begin to change. With the mysterious murders around town, Mo is desperate to learn answers so she can prove this guy she's beginning to fall for is not a murderous wolf.
When it comes to the characters, I really liked Mo and thought she was pretty genuine. She goes through a few situations that would have me hiding under the covers, and while she does get scared like any normal person, she also overcomes and learns to continue with her life. She's amusing as well, which is something I always love! As for Cooper, he's hard to get a grip on in the beginning. He's not the friendliest person to Mo, and therefore, you don't really like him…even though you know he's bound to grown on you. And, of course, he does! Cooper is a good guy. He might get frustrated with himself and Mo, but he's ultimately a decent person who just wants to help those he loves.
Finally, we have all the secondary characters that make a book like this, since it takes place in such a small town. There's Evie, who Mo works for and soon becomes best friends with, who believes Cooper and Mo would be a great match from the beginning. Then you have Alan, the loveable guy in town who just wants to make Mo happy, if only she could love him back. And many, many more!
As I said above, I loved the Nice Girls series and I'd still say they are my favorite Molly books (the humor seems more prevalent), but I think I'll enjoy the rest of these werewolf books too! Definitely worth checking out.