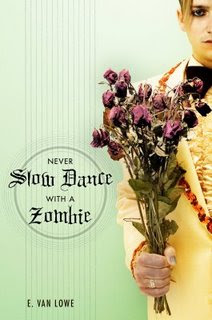 The author of Never Slow Dance with a Zombie, E. Van Lowe has a great way new book coming out and it's FREE. I'm not really original, so I copied and pasted what he had posted on his own blog to let you know what this is all about:
My big announcement at Saturday's Never Slow Dance With A Zombie Fest was about my newest work. It's a funny, thrilling paranormal YA novella called I Want You Back!

I Want You Back! is a free e- chapter book (with illustrations) available to my fans. The illustrations are being done by my good friend, artist, Tatiana.
If you'd like to get in on this FREE e-book all you have to do is subscribe to my website. Just go to
http://www.evanlowe.com
click the subscribe button and follow the instructions. I promise your info will not wind up on somebodies mailing list. I'm keeping your info safe. Once you subscribe, each new chapter (10 or more, I'm still writing) will be sent to you via email every time a new chapter is available. One to two chapters per week. This is my way of paying back my friends and fans for your support, and hopefully getting those of you who haven't read me yet to read me. Tatiana and I are very excited about this new project.

Here's the opening from the book:

To begin with, I'm not a nice girl. Don't get me wrong, I used to be a nice girl. I used to be kind, and helpful, considerate and thoughtful. The kind of girl who went to all of her boyfriend's games, even though she hates basketball; the kind of girl who helped her boyfriend study for his English final while she should have been studying for her own calculus final—and maybe she would have done better than that C; the kind of girl the boys at school lovingly call, oh, what's that cute little name they have for us again? Oh, yes—Doormat.

Doesn't that sound like a fun opening? I Want You Back! is the story of 16 year-old Emy Grant, who uses magic to ensnare the boy of her dreams. We're trying to have it ready in late December so you'll have it to read during the holidays. More announcements will be coming in the next few weeks.
So there you are! I really do think this sounds very cute, and the opening had me laughing the first time I read it so go and sign up. Books are expensive; why not do yourself a favor??