I'll Be Gone in the Dark: One Woman's Obsessive Search for the Golden State Killer by Michelle McNamara
Review by Lauren
Source: copy from e-library; all opinions are my own
Official Summary (add on Goodreads): For more than ten years, a mysterious and violent predator committed fifty sexual assaults in Northern California before moving south, where he perpetrated ten sadistic murders. Then he disappeared, eluding capture by multiple police forces and some of the best detectives in the area.
Three decades later, Michelle McNamara, a true crime journalist who created the popular website TrueCrimeDiary.com, was determined to find the violent psychopath she called "the Golden State Killer." Michelle pored over police reports, interviewed victims, and embedded herself in the online communities that were as obsessed with the case as she was.

At the time of the crimes, the Golden State Killer was between the ages of eighteen and thirty, Caucasian, and athletic—capable of vaulting tall fences. He always wore a mask. After choosing a victim—he favored suburban couples—he often entered their home when no one was there, studying family pictures, mastering the layout. He attacked while they slept, using a flashlight to awaken and blind them. Though they could not recognize him, his victims recalled his voice: a guttural whisper through clenched teeth, abrupt and threatening.

I'll Be Gone in the Dark—the masterpiece McNamara was writing at the time of her sudden death—offers an atmospheric snapshot of a moment in American history and a chilling account of a criminal mastermind and the wreckage he left behind. It is also a portrait of a woman's obsession and her unflagging pursuit of the truth. Framed by an introduction by Gillian Flynn and an afterword by her husband, Patton Oswalt, the book was completed by Michelle's lead researcher and a close colleague. Utterly original and compelling, it is destined to become a true crime classic—and may at last unmask the Golden State Killer.
Review: The official summary could easily be the only thing you read about this book, as it's quite long. In case you are skimming over it, all you really need to know about I'll Be Gone in the Dark is that Michelle McNamara was someone obsessed with true-crime, particularly the unsolved cases. This goes back to her teenage years, when a neighbor is murdered and no suspect is ever charged. For many years, however, McNamara has been especially focused on someone she dubs the Golden State Killer. This unknown man was known to authorities as the East Area Rapist/Original Night Stalker. Police believed these to be two separate men for a long time, until DNA concluded that the EAR/ONS was the same man, and so EAR/ONS become their "name until McNamara came along and dubbed them The Golden State Killer.
I'll Be Gone in the Dark is equal parts memoir and investigation. The book goes back and forth between the Golden State Killer's victims and their stories, and McNamara's own life and stories. I thought this way of telling the story was great because it allows readers to understand McNamara's intense search for this masked man (chances are the person responsible is still alive, and the FBI is still looking). She states in the book that she doesn't care if she figures out who the Golden State Killer is…she just wants to someone to unmask him. She works with other "armchair detectives" online to look up suspects and track down lost evidence (tokens that the killer took from victims). It's a fascinating search for a despicable human being.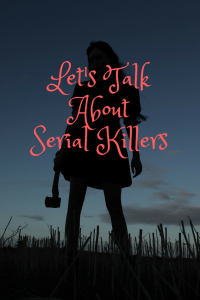 With so many shows and books out these days that focus on serial killers, I think it's obvious that this is something that the public finds fascinating. I'll admit, I find serial killers fascinating too. The Golden State Killer, in particular, because he has never been caught…even though they have his DNA. He attacked for many years, across California, and yet, he has never been found. It's a horrifying thought. The fascinating part comes when you think about the man behind the stories – who is this person? How did he become this infamous monster?
I think the first time I heard about The Golden State Killer was on the My Favorite Murder podcast, so it wasn't that long ago. I knew bits and pieces of his story, so I was excited to finally read McNamara's book. No, we still don't have the answers as to who the Golden State Killer is, but it's still a worthy book to be read. I am saddened by the fact that McNamara passed away while writing the book. A couple people who had searched with her took the time to piece together an ending to the book, and then McNamara's husband, actor Patton Oswalt, provided an afterword. I appreciated these people coming together, using notes McNamara left behind, to conclude this book. It's a testament to how much they understand her quest, her need to keep looking. Despite that, it's still an upsetting conclusion to a book full of upsetting moments.
I'll Be Gone in the Dark is an intriguing look at one woman's quest to bring a stranger into the light. #bookbloggers #ontheblog
Click To Tweet
I'll Be Gone in the Dark is an intriguing look at one woman's quest to bring a stranger into the light. I highly recommend, and may the truth one day be revealed.
(Let's Talk About Serial Killers is a new "feature" on the blog; it will mostly be attached to things I review that deal with serial killers – TV, movies, books, etc.) 
ETA: I read this book and scheduled the review before the news that the Golden State Killer has finally been caught. DNA was the reason they finally caught this guy – Joseph James DeAngelo. You can easily search online for articles about the case, information about DeAngelo, etc. I just wanted to make sure you knew that after all these years, this menace is finally in custody. Sadly, it came after the passing of McNamara, but I know her family and co-writers are thrilled that her years of work has finally reached a positive end.