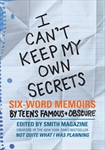 The latest in the six-word memoirs series is for all teens (famous and obscure, as the title says) called I Can't Keep My Own Secrets. For those of you who want to read it, be on the look out this September…it's coming out from Harper Collins I believe.
Anyway, like the title above says…I'm in a BOOK (said to the tune of The Lonely Island's "I'm On a Boat" of course!) That's right. That's right. I've been published. Go me! hahaha My six-word memoir is in this book…which I found out because I was sent a review copy and I went searching for myself. I wasn't 100% sure I was going to be in there, you see, so I was stoked when I came across my name. Because we are teens, they don't have last names…so I'll be nice and tell you what mine is:
"I was named after a store"- Lauren B.
So yes, get the book and look for that. If you have a review copy, you can obviously see it now. I know it's only six words of something I wrote but still, it's pretty awesome to see that inside an actual book people can buy in an actual store. Right?!
Okay, enough about that. I have another item that I want to mention…I forgot to do this on Tuesday when it was first posted. I was featured on Write for a Reader's "Because of a Book" feature this week…where I talk about a book from when I was younger that meant a lot to me. I love this book, honestly, so it would be great if more people checked it out. So go and read what I have to say…leave a comment for Shelly (she's awesome!) and myself of course.
http://writeforareader.blogspot.com/2009/07/because-of-book-lauren-becker.html