In My Mailbox is a weekly event hosted by Kristi at The Story Siren who was inspired by Alea at Pop Culture Junkie.
Haven't done one of these in a looong time, so I thought I'd do one this week.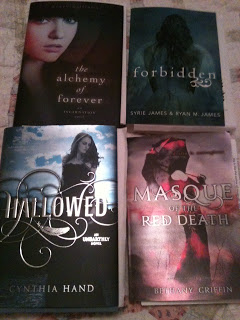 For Review:
The Alchemy of Forever (Incarnation #1) by Avery Williams
Hallowed (Unearthly #2) by Cynthia Hand
Forbidden by Syrie James, Ryan M. James
Masque of the Red Death by Bethany Griffin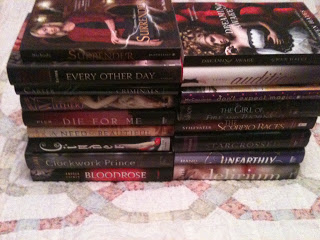 Bought:
(I went a liiiittle crazy over the b&n sale. most are finished copies I wanted.)
Surrender (Haunting Emma, #3) by Lee Nichols
Dreaming Awake (Falling Under, #2) by Gwen Hayes
Every Other Day by Jennifer Lynn Barnes
Audition by Stasia Ward Kehoe
Uncommon Criminals (Heist Society, #2) by Ally Carter
Don't Expect Magic by Kathy McCullough
Wither (The Chemical Garden, #1) by Lauren DeStefano
The Girl of Fire and Thorns (Fire and Thorns, #1) by Rae Carson
Die For Me (Revenants, #1) by Amy Plum
The Scorpio Races by Maggie Stiefvater
A Need So Beautiful (A Need So Beautiful, #1) by Suzanne Young
Starcrossed (Starcrossed, #1) by Josephine Angelini
Cinder (Lunar Chronicles, #1) by Marissa Meyer
Unearthly (Unearthly #1) by Cynthia Hand
Clockwork Prince (The Infernal Devices, #2) by Cassandra Clare
Delirium Special Edition by Lauren Oliver
Bloodrose (Nightshade, #3) by Andrea Cremer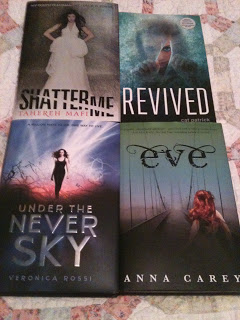 From the Not Your Mother's Book Club event:
(my mom went for me, best mom ever! got my arcs and finished copies signed.)

Shatter Me (Shatter Me, #1) by Tahereh Mafi
Eve (Eve, #1) by Anna Carey
Under the Never Sky (Under the Never Sky, #1) by Veronica Rossi
Revived by Cat Patrick (won)
And that's what I got this week. What did you get?
-Alicia