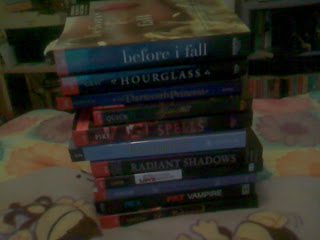 I was going to do a vlog this week, but I didn't feel like being on camera, so I didn't. Sorry if the picture is kind of blurry. Anyways, I got some absolutely amazing books:
For Review:
before i fall- Lauren Oliver ((started reading and it is fab!))
Hourglass
(Evernight #3
)- Claudia Gray
((already read, and wow!))
The Thirteenth Princess-
Diane Zahler
((looks really good even though its mg and i usually don't read mgs))
A Golden Web-
Barbara Quick
((also looks good))
Spells
– Aprilynne Pike
((que excited screaming!))
Mistwood-
Leah Cypess
((another screaming one!))
Radiant Shadows
(Wicked Lovely #4)- Melissa Marr
((just about passed out w/ this one))
Seth Baumgartner's Love Manifesto
– Eric Luper
((one of my fav covers ever and looks to be awesome!))
Early to Death, Early to Rise
– Kim Harrison
((must finish the first one))
Fat Vampire
– Adam Rex
((looks good, i mean really? a fat vampire? so there!))
Betrayal
– Gillian Shields
((have to still read the first, which I have))
*not pictured:
Gorgeous
– Rachel Vail
Bought/swapped/borrowed: none.
Let me know what you think, and leave links to yours!
-Alicia