In My Mailbox is a weekly event hosted by Kristi at The Story Siren who was inspired by Alea at Pop Culture Junkie.
Alicia here for another IMM. Pictures this time!
For Review:
Death Echo- Elizabeth Lowell ((surprise, not sure if I'll read))
Forbidden Sea- Sheila A. Nielson
Siren- Tricia Rayburn ((glad I got a copy since I missed it at BEA.))
Insatiable- Meg Cabot ((x2- will give one copy away.))
Infinite Days- Rebecca Maizel ((!!!!!! one of the best books I have ever read, a top 5 favorite. review coming soon.))
Grace- Elizabeth Scott ((second copy, so giveaway coming.))
Indigo Blues- Danielle Joseph
Kiss It- Erin Downing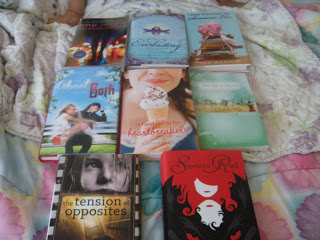 Borrowed from Zoe:
One Night That Changes Everything- Lauren Barnholdt ((already read and loved.))

Bought:
Everlasting- Angie Frazier
I Now Pronounce You Someone Else- Erin McCahan
The Ghost and the Goth- Stacey Kade ((signed and met her!))
A Field Guide for Heartbreakers- Kristen Tracy ((signed and saw her again))
The Clearing- Heather Davis
The Tension of Opposites- Kristina McBride
Sisters Red- Jackson Pearce
Swag from the Prophecy Superfan:
5 Prophecy of the Sisters/ Guardian of the Gate (by Michelle Zink) bookmarks
2 very cute hair clips
rose pin
picture frame.
This is everything from the past 2 weeks. I've gotten other books for review and bought some since my last IMM, but I can't remember what they are.
Anyways, what did you get this week?
-Alicia
P.S.- Yes, the SEA contest is over and the winner has been picked. I've been busy and haven't had a chance to post and email the winner; the winner will be contacted tonight and the post will go up tomorrow. Also, yes, this is the start of normal posting from me. Expect a ton of reviews soon. And there will be a lot of contests coming up!