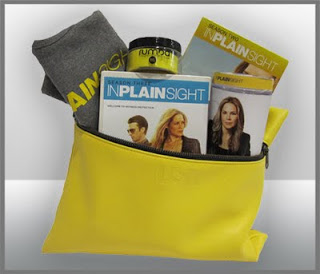 In Plain Sight Prize Pack Giveaway
Open to residents of the U.S. and Canada
Prize courtesy of USA Network. Prize pack value: $130
To Enter: If you were to enter Witness Protection, what would you want your new name to be and where would you like to live?
Ends: April 31st
EXTRA EXTRA
Leave ONE NEW COMMENT for every non-giveaway post you comment on here and at Let's Get Beyond Tolerance
All the Info You Need on the New Season
IN PLAIN SIGHT will air its fourth season beginning Sunday, May 1 at 10/9c on USA Network. IN PLAIN SIGHT stars Mary McCormack as Mary Shannon, a U.S. Marshal working in the highly secretive branch of the witness protection program (WITSEC), who relocates Federal Witnesses, most of whom fall into three categories: career criminals, whistle-blowers or innocents who had the misfortune of witnessing a crime. They all have one thing in common – someone wants them dead. Mary's job is to see that doesn't happen, while at the same time attempting to manage her own dysfunctional family. In the upcoming season, Marshall will have a new love interest; Brandi gets engaged to Peter, and Mary reluctantly helps plan the wedding! Visit the official IN PLAIN SIGHT website at http://www.usanetwork.com/series/inplainsight/ for exclusive content and become a fan on Facebook at http://www.facebook.com/inplainsight
In Plain Sight Prize Pack!
Prize pack includes:
Yellow Zippered Pouch
Tank Top
Travel Tumbler
Rumba Watch
Season 2 DVD
Season 3 DVD