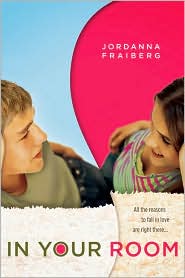 In Your Room by Jordanna Fraiberg
Review by: Lauren
Molly and Charlie both had all their plans set for the summer holidays when their families drop the bomb that they will be switching houses. Molly heads off to Charlie's place in Colorado, while Charlie and his family take up residence in Molly's L.A. home. As the summer progresses, with Molly and Charlie staying in each other's rooms, the two get to know each other through emails and by living out each other's lives on a daily basis. Molly and Charlie start to slowly fall in love, but will it last? What happens when Molly meets someone from Charlie's past? And is Charlie falling in love with Molly, or her friend Celeste?
In Your Room was a unique twist on your teenage love story. Fashion girl Molly and bike riding Charlie have a lot more in common then what first appears, adding to the story and their connection to one another while living miles away. Jordanna Fraiberg wrote a fun, emotional, and different story in her debut. I can't wait for more and would love to see Molly and Charlie's story continued at some point, though it leaves off in a nice way.
And now, a Q&A with the author, Jordanna Fraiberg:
1. I'm very curious about how authors come up with their character's names. Any specific stories for In Your Room?
Well, I was not conscious of this as I came up with the names, but soon after I realized that Molly and Charlie were the names of two of my husband's favorite family pets. They both died before I met him, but I've heard the stories and seen the pics. Molly was a giant, lovable chocolate lab (similar to one my family had) and Charlie was the name of his beloved Siamese cat. Our Siamese cat, Emma (who sadly died before the book came out), was the inspiration behind Cheese the cat in the book. Even though they look nothing alike, "Cheese" was one of Emma's many nicknames.
2. Charlie's family is made up of two moms instead of a mother and a father. What made you decide to include this family dynamic in the novel?
I think there are many ways to form a family and I wanted to show that as a normal part of Charlie's life. I didn't come up with it to be an issue in the book, but just a part of who Charlie is, to show that no matter how different our lives may seem, we're all alike in our desire for connection and love.

3. Molly loves fashion, while Charlie is big on riding his bike. Do you share any of these hobbies, or did you have to research information on them?
The answer is yes and no as to sharing the hobbies, and yes to research. I used to be an athlete, so I think that helped in relating to both Molly and Charlie's singular focus on their own respective passions. I do love putting outfits together but I've never made a single item in my life. And while I know the hills that Charlie rides in the book, I usually cover them on foot, so all my research was really helpful. I actually bought a bike this summer after I finished the book!
4. The book ends where it could be finished, or you could add a sequel. Any plans to continue Molly and Charlie's story?
I don't have plans for a sequel now, but if I can come up with a compelling reason to pick up their story at some future point, maybe I will…
5. Are you currently working on anything?
I am. I have another book forthcoming from Razorbill in 2010. It's also a love story, and I'm in the middle of writing it.