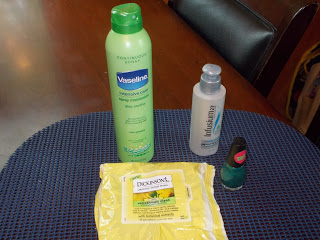 I'm part of the website Influenster, and I was really excited that I was offered their Sunshine VoxBox to review this past month (all opinions are my own). You can see the contents in the above photo. Unfortunately, my family ate the Sriracha Blue Diamond almonds before taking the photo, so those were included too! My dad liked them – they were hot, but not too hot!
The other items:
Dickinson's Original Witch Hazel Daily Refreshingly Clean Cleansing Cloths: These work well, but they didn't have a nice scent! I wouldn't really recommend!
Vaseline® Intensive Care™ Aloe Soothe Spray Moisturizer: Good product for the summer and hot weather, as it includes aloe. You just spray and smooth it in right away. I used it on my arms and legs and it felt really nice and refreshing.


Infusium 23 Moisture Replenisher with avocado and olive oil:I liked this! I have really frizzy hair, and it did
help keep my hair pretty smooth throughout the day. This picture (above) is
after having my hair down for hours and it looked pretty good! Also, the product smells so nice!


Sinful Colors nail polish: I really like the color, but I still need to actually use this! I've used the product before though, I believe, and it didn't last very long. I think it's a good price for a polish though- so check it out!


I also got a coupon for barkTHINS, but I haven't seen them around. They do look quite yummy, so I'd recommend keeping an eye out.


Overall, I liked the products I was sent. They were all great for the summer, and it was fun trying some new things!