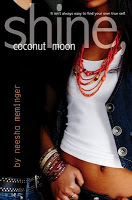 Interview with: Neesha Meminger

By: Lauren
Neesha Meminger's YA novel Shine, Coconut Moon will be released in March.
1. How did you first come up with the idea for Shine, Coconut Moon? Did it come to you around 9/11 or awhile afterwards?
The original story for Shine had no references to 9/11, actually. The little "nugget" this story stemmed from was a love letter to my daughter and to my mother. My daughter is biracial and I wanted to see the world through her eyes. My mother is a very traditional Indian woman from
a village in rural Punjab where she grew up with no running water or electricity. It's a real trip to watch the the two of them interact; there are moments of misunderstanding where they both walk away thinking they understood the conversation completely–but when you ask them about it later, you get two completely different conversations. And there are moments of complete magic where they both understand the other absolutely with very little use of words.
Of course, things changed, and many revisions later, Sammy lost her biracial identity and the 9/11 thread was woven through. I maintained the heart of the story, which for me was about the rifts and connections between these three generations of Indian, Sikh women.
It was a very interesting process and I'm thrilled with the result.
2. Having the same type of background as your main character Sammy, did you experience any of the hardships she went through in any way? What would you say to others who might be looked down on for where they come from?
A year or two after we movied to Canada from India, the Sikh Temple next d oor to where we lived was set on fire. I was six or seven years old at the time and didn't understnad what was happening and why. But the words painted on the side of the flaming building immediately seared themselves into my memory. Other than that, my experiences and Sammy's are very different. Sammy is far more confident than I ever was. And I was far more rebellious than Sammy is ;).
I always felt more "unseen" than looked down upon. I thought that if people could look beyond the outer, they would find that there were more similiarties–that we were really more alike than different. But I cherished the differences, too, because those were what made me, and everyone I met, special and unique.
I think the world is rapidly changing. There is the simple truth that, really, we all are the same. We are little beings inhabiting this planet at the same time, relying on the climate and the physics of it all to stay in balance so that we can survie. And that fine universal balance pays no attention to how light or dark we are, who we choose to love, where we live, what kind of car we drive . . . I sort of see it like the Titanic (though I hope our beautiful little planet never meets the same fate!)–if this ship goes down, we all do, regardless of all the meaningless divisions we cling too.
3. Did you always want to write and publish a book? How has the experience been for you so far?
Hmm. I don't know if I always wanted to publish a book. I know I always loved books. Like most writers, I devoured books. And I wrote all the time without thinking about it. Language for me was like breathing. I had to learn a second language quickly, to survive. I watched my parents struggle with simply daily tasks because they didn't speak English. They were intelligent, articulate, strong people who were reduced to stuttering child-speak when using English words. It was a profound lesson about the power of language and words for me, at a very young age.
4. Are you currently working on anything else? Do you hope for it to be published as well?
My second novel, Jazz in Love, is currently under consideration, and I'm working on my third.
5. I have to say that I love the title of your novel. What specifically does it mean? How did you come up with the title (any stories)?
Thank you! I love it, too. And, actually, it almost didn't stay. Once it was acquired there was doubt about the title, but it slowly petered off. I'm happy they decided not to change it. There's a scene in the novel where Sammy's Uncle explains how the moon absorbs the sun's rays throughout the day so that it can shine at night. He goes on to say that children are like that, too: absorbing "rays"–views, beliefs, biases, etc.–from the adults around them and shining them back out into the world.
And since Sammy struggles with being called a Coconut (Brown on the outside, Bland and colorless–or white, depending on how you see a coconut–on the inside), I thought the analogoy was perfect as a title. I wanted her to shine, in response to the rays she was recieving from the world at large.
6. Thanks for answering our questions! Anything else you wish to add?
Thank you for the great questions :).