FTC Disclosure: This post is sponsored by The Children's Book Review and Amberjack Publishing, but all questions and thoughts are my own.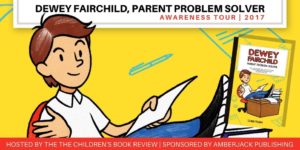 I'm excited to be part of the Dewey Fairchild: Parent Problem Solver book tour. While I haven't had the chance to read this one yet, it sounds like a lot of fun! I did, however, have the opportunity to interview the author, so please read on to learn more – and don't forget to enter the giveaway!
Interview with Author Lorri Horn
Dewey Fairchild has a very memorable name. Is there a story behind its creation?
Dewey's name comes from John Dewey, the great educational reformer (you'll see more of this in the second book, Teacher Problem Solver). I am an educator who taught for fifteen years—my husband and I met teaching—our dinner table talk, our reading, and our idea of fun focuses on pedagogy. I love so much of what John Dewey says about democracy as "social intelligence" and the pragmatic approach that ideas are tools we use to make greater sense of the world. So, Dewey is a "do-er" as well. He fixes doesn't just stew. If he's wrong, he'll try again. When we first meet him, Dewey seems sort of nondescript—a middle child, a bit of neither-this-nor-that. A fair-child with neither this nor that colored eyes, nor really a distinct shade of hair, nor much significant going on to make him stand out. Later, his job becomes to solve parent problems, and his strategies are pretty fair-minded, so it evolves into this other meaning. Folks also "fare" well under his guidance. He's also open to the guidance of others, the sign of any great leader, and that, in turn, makes him a fairer guy.
Any plans to make Dewey's adventures into a series?
Yes! Dewey Fairchild, Teacher Problem Solver is already well on its way to getting to you! And other ideas percolate.
3.If you could co-write with another MG writer, who would you choose and why?
I'd like to write with Ruth Stiles Gannett. I enjoy her simplicity of language that accompanies her depth of emotion. I love her eloquence and imagination and the fact that she wrote her books just for pleasure's sake. I think we'd work well over a cup of tea and I don't even drink tea but she would inspire that in me, along with, I think, a serious loveliness.
4. Describe the perfect Dewey Fairchild reader!
Strong and reluctant readers alike can engage with Dewey Fairchild. I've always known that to grab a reluctant audience of kids you need humor and Dewey Fairchild dishes out plenty. Humor alone wears thin quickly though; so stronger readers will find a place to get carried by the power of figurative language and narrative style. All kids appreciate humor and a good turn of a phrase. The perfect Dewey Fairchild readers love imaginative solutions to real life problems in school, play, and family. In fact, they may even at times lead them into trouble! But those we-can-do-this-somehow kids, even if they can't actually pull it off, have a certain imagination and spirit that often comes from a pretty creative place. They'll likely enjoy the fantasy of how Dewey manages to be empowered to observe and make changes. Lastly, of course, I'd wager any kid governed by adults would be a pretty good match.
Giveaway Time!
Enter to win a Dewey Fairchild, Parent Problem Solver themed prize pack!
One (1) winner receives:
A copy of Dewey Fairchild, Parent Problem Solver, by Lorri Horn

A Dewey Fairchild themed gift pack. Includes items such as cookies, gum, notebooks, pens/pencils, Tootsie Rolls, Monopoly game etc.
Giveaway rules:
NO PURCHASE NECESSARY.

Enter between 12:00 AM Mountain Time on August 1, 2017 and 11:59 PM on August 31, 2017.

Open to residents of the fifty United States and the District of Columbia who are 13 and older.

Winners will be selected at random on or about September 3, 2017.

Odds of winning depend on number of eligible entries received. Void where prohibited or restricted by law.
Prizes provided by Amberjack Publishing.
If the above form won't load, please visit this link to enter the giveaway.
About the Book
Dewey Fairchild, Parent Problem Solver
Written by Lorri Horn
Publisher's Synopsis: Dewey Fairchild isn't just good with parents, he's great with them. He's so good at handling parents that he's built a thriving business out of it. He even has a secretary, Clara―a great alibi and an even better baker. Dewey settles the most troublesome of cases, from an overprotective mom who won't let her child go to class on her own, to a dad who can't stop picking his nose any chance he gets!
Dewey has no problem handling other people's parents, but when he overhears his parents talking one day, he faces a challenge he never expected. Dewey can solve any problem parents may cause, but what will he do when the parents who are causing problems are his own?
Ages 9-12 | Publisher: Amberjack Publishing | August 8, 2017 | ISBN-13: 978-1944995164
Available Here: