Ivy Aberdeen's Letter to the World by Ashley Herring Blake
Review by Lauren
Source: ARC from Karen at For What It's Worth
Official Summary (add to Goodreads): When a tornado rips through town, twelve-year-old Ivy Aberdeen's house is destroyed and her family of five is displaced. Ivy feels invisible and ignored in the aftermath of the storm–and what's worse, her notebook filled with secret drawings of girls holding hands has gone missing.
Mysteriously, Ivy's drawings begin to reappear in her locker with notes from someone telling her to open up about her identity. Ivy thinks–and hopes–that this someone might be her classmate, another girl for whom Ivy has begun to develop a crush. Will Ivy find the strength and courage to follow her true feelings?
Review: Thank you so much to Karen for sending me a copy of this book. It's an MG LGBT+ book and I love that because you don't get a lot of LGBT+ books for the middle grade audience. I'm glad to see this slowly, but surely, changing, and Ivy Aberdeen's Letter to the World is a wonderful addition to what is already available.
The theme of a tornado was done really well – both externally and internally too. You see, Ivy and her family's' home is destroyed one night during a tornado and while everyone is okay, it means the family is essentially homeless. This is obviously the external tornado. At the same time, Ivy has a bit of an internal tornado as she's dealing with a lot and doesn't really know how to talk about it. She's mad at her sister for something that happened with her sister's friend, her mom is too busy with the twin boys to pay much attention to her, and oh yeah…she might have a crush on a girl.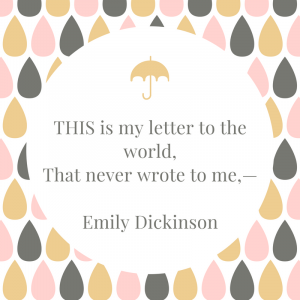 One of the main ways Ivy deals with her swirling emotions is through art. She keeps a notebook with her where she can draw out her feelings. Unfortunately, her notebook goes missing the night of the tornado (she had it at the school where they take shelter for the night, but the next morning, it's gone) and she's afraid of who will see it and if they know it's her pictures. While there are a variety of drawings, Ivy does a series of treehouse drawings where she's always with another girl – she's not sure at first what it means but when she develops a real life crush, she knows that it definitely means she likes girls. The missing notebook is obviously a source of stress for Ivy, on top of everything else.
Ivy Aberdeen's Letter to the World - #bookreview of an LGBT+ MG novel. HIGHLY recommended! #bookbloggers
Click To Tweet
However, Ivy's real-life crush is a relatively new girl named June who I just adored. Like Ivy, it's so easy to feel for June, because she definitely has her own issues to deal with. At the same time, she's really sweet and bubbly and helps make Ivy feel good about herself and her drawings when it seems like nothing will be the same again.
While this book is for a middle grade audience, I highly recommend fans of YA read it too because it didn't feel young. The author never talked down to the audience, and I think all ages could find someone to relate to in the book – whether that's Ivy, June, or even June's older sister or parents. Definitely recommended, though be warned, it might make you cry a little!