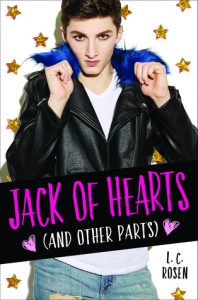 Jack of Hearts (and Other Parts) by L.C. Rosen
Review by Lauren
Source: ARC borrowed from Karen of For What It's Worth; all opinions are my own
Official Summary (add to Goodreads): Meet Jack Rothman. He's seventeen and loves partying, makeup and boys – sometimes all at the same time. His sex life makes him the hot topic for the high school gossip machine. But who cares? Like Jack always says, 'it could be worse'.

He doesn't actually expect that to come true.

But after Jack starts writing an online sex advice column, the mysterious love letters he's been getting take a turn for the creepy. Jack's secret admirer knows everything: where he's hanging out, who he's sleeping with, who his mum is dating. They claim they love Jack, but not his unashamedly queer lifestyle. They need him to curb his sexuality, or they'll force him.

As the pressure mounts, Jack must unmask his stalker before their obsession becomes genuinely dangerous…
Review: Can I just commend Little, Brown books for publishing a book like this? It's an unapologetic look at teen sex – and gay teen sex at that! – and it's for the YA crowd. I love it so much. This book has been on my to-read list since I heard about it, so I'm so thankful for Karen for allowing me to check out her ARC. Jack of Hearts (and Other Parts) is definitely a book I need a finished copy of though.
I imagine people will have issues with this book – especially some adults – but it's an important story and I'm glad that it's going to be out there for teens to read. While Jack might be gay, his sex advice column doesn't just answer questions for gay teens – other orientations write in too! I loved the variety of questions that Jack answers, and I'm sure actual teens reading the book will learn a lot about their own sexuality, which is important. Teens should be informed, whether they want to have sex or not.
Jack of Hearts (and Other Parts) is a sex positive YA novel that we need to see more of - full #bookreview on the blog! #bookbloggers
Click To Tweet
Beyond the advice column, Jack of Hearts is about a teen boy named Jack with two best friends who starts getting creepy secret admirer notes folded into various origami figures. It starts out innocent enough – someone has a crush; not so bad right? But things escalate and it starts to get really worrisome where you aren't sure if Jack is even physically safe or not. This person doesn't want Jack being who he is – proud and sexually liberated. They are willing to go to extreme means to make him change himself, and it was so upsetting to read about these moments. As a reader, you just want to reach into the pages and hug Jack and tell him it'll be okay, and don't change who you are! He does have some great friends, though, and a pretty awesome mom – though she's a bit absent due to her job – so he's not alone. Granted, that doesn't make what he's going through that much easier and he starts to feel like he can only rely on himself and maybe he should just give in to these crazy demands.
Jack of Hearts (and Other Parts) is a fantastic read, full of heart and humor, and I love that it portrays teen sexuality in a positive light. Plus, it has an intriguing, and suspenseful, mystery that spans the whole book. Highly recommend!
Jack of Hears (and Other Parts) is released next Tuesday, October 30, so pre-order now!