Welcome to February, everyone! It's a short month, but we get an extra day with Leap Year! Before we slide fully into the month of love, I'm here to share my January Favorites. Let me know what yours are in the comments.
Monthly Favorites (January 2020): TV, Movie, Songs, and more. Do we share any of the same favorites? #ontheblog
Click To Tweet
January 2020: Monthly Favorites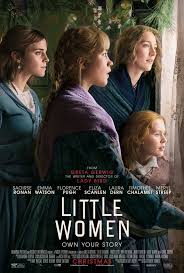 Favorite Movie: Little Women. To be honest, I've never read Little Women or seen any of the previous film adaptations. However, I saw the newest one and it was so good. I definitely teared up throughout – there were just so many touching moments, and moments that I could personally relate to as well. I thought the cast was amazing. I'm a big fan of Emma Watson, so it was great to see her in something different. The standouts, of course, are Saoirse Ronan (Jo), Timothée Chalamet (Laurie), and Florence Pugh (Amy). And honestly, while I LOVE Ronan and Chalamet, I think Pugh might have been my favorite performance of the whole movie.
Favorite TV Show: 9-1-1 Lone Star. I really like the original 9-1-1, so I figured I'd check out the new adaptation. The set up is essentially the same, in terms of firefighters, paramedics, cops, and 9-1-1 operators. This time, however, the show is set in Texas. There's only been three episodes so far but I'm really loving it! I'm already a fan of Rob Lowe, so it's awesome to see him in another show. I'm not entirely sure how I feel about Liv Tyler, though. The rest of the cast is fantastic and I love all the diversity: race, religion, sexuality, gender identity. You get all of that, and I feel like it's being handled well so far, so kudos to Ryan Murphy and the gang!
Favorite Song: "More Hearts Than Mine" by Ingrid Andress
If I bring you home to mama
I guess I'd better warn ya
She falls in love a little faster than I do
And my dad will check your tires
Pour you whiskey over ice and
Take you fishing but pretend that he don't like you
Oh, if we break up, I'll be fine
But you'll be breaking more hearts than mine
Ingrid Andress is a relatively new country singer. I first heard this song on the radio, but I really like the video for it too. Anyway, I just love this song, and it's such a simple but truthful concept. Breakups of any kind hurt more than just the people in them.
Favorite Product: Halo Top Ice Cream – Sea Salt Caramel. I know, I know, these have been around for awhile, but I just FINALLY had some and I'm addicted. The entire pint only has 320 calories – plus it has some protein in the ice cream, so it's not all bad for you! I've only had the Sea Salt Caramel flavor so far, because it's gluten-free and they aren't all GF, but I'm loving it. I don't need anything else.
Favorite Performance: Demi Lovato  – "Anyone" – 2020 Grammys
A hundred million stories
And a hundred million songs
I feel stupid when I sing
Nobody's listening to me
Nobody's listening
I talk to shooting stars
But they always get it wrong
I feel stupid when I pray
So, why am I praying anyway?
If nobody's listening
Demi Lovato is such a courageous person, and a fantastic singer, and it was amazing seeing her perform again at the 2020 Grammys. She sang "Anyone", which she wrote only a few days before she relapsed.  This was her first time on the stage since then (almost two years). It's such a heartbreaking, but beautiful performance, and I highly recommend everyone watch it.
Let's Discuss- 
That's it for my January Favorites! Do we share any of the same ones? Let me know what your favorites were in the comments; I'd love to know. I'm also tinkering with the idea of making this a monthly link-up because I know other bloggers do favorites posts and I love reading them. What do you think? Would you join?