This is a sponsored post and book review courtesy of The Children's Book Review and Tom Durwood; all opinions are my own. 
Kid Lit: An Introduction to Literary Criticism by Tom Durwood
When I was an undergrad in college, one of the hardest classes I took was Literary Criticism. It's an interesting topic though, and it's important to be able to read something critically and understand how the author might be framing a particular story or narrative. I love that Durwood has created literary criticism for kids.
Part 1: Lit Crit Toolbox
This section is a great place for teachers or parents to begin when it comes to teaching their kids how to think about literature in a critical capacity. I like that Durwood shares various types of storytelling and the components that make it up. For example, there is the Coming-of-Age novel. In these stories, the hero or heroine often have flawed or absent parents. Also, the villain in the story is just as important in the book as the hero is. I think we can all think of books that fit the Coming-of-Age format, but thankfully, Durwood shares a nice list including:
Peter Pan
The Harry Potter series
The Color Purple
Alice in Wonderland
Catcher in the Rye
and many, many more!
Part 2: In Depth
This section of the book might be a bit trickier for some kids, but it's definitely fascinating and good information to know. I'd recommend sharing with a slightly older reader, once they have the basics of Lit Crit down!
Part 2 begins with an analysis of the movie The Lion King. Some people view it as the Shakespeare play, Hamlet, while others see it in a Christian view (aka Simba is the Prodigal Son). Both are definitely interesting. I've heard of the Hamlet comparison, but nothing else! Along with this, the author interviews Dan Hassler- Forest who goes into a lot of great detail on The Lion King. If you're a fan of the movie, especially older readers, this is a must-read interview. I loved how he said the movie is very much an American story, but with some African elements.
After this, there are other sections, focusing on Star Wars and Government, as well as Imperialism in Tarzan, and more. All of these also include great interviews, allowing readers to really dive into the various analyses. Then you got a whole section on Pixar films, as well as a chapter focusing on the Harry Potter series.
Part 3: Lesson Plans
The book ends with a variety of critical thinking exercises that students can do, which is a really nice touch if you're using this book to teach in a classroom (home or school).
Question: Do you enjoy literary criticism? Have you ever taken a class on it?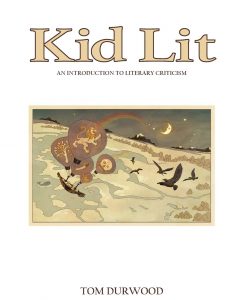 GIVEAWAY
Enter for a chance to win a copy of Kid Lit: An Introduction to Literary Criticism!
Ten (10) winners receive:
A digital copy of Kid Lit: An Introduction to Literary Criticism
The giveaway begins June 29, 2021, at 12:01 A.M. MT and ends July 29, 2021, at 11:59 P.M. MT.