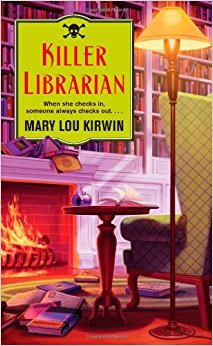 Killer Librarian by Mary Lou Kirwin


Review by Lauren


Source: copy from library; all opinions are my own


Official Summary: Champion of the mystery section at a small-town Minnesota library, Karen
Nash is about to embark on a dream trip to London—a literary tour
inspired by every murderous intrigue, wily suspect, and ingenious crime
found in the pages of the British mysteries that she devours. But she's
clueless why the love of her mid-life, Dave, would dump her hours before
takeoff—until she spies him at the airport with a young honey on his
arm! She decides the best revenge (for now) is to get on that plane
anyway…and entertain schemes for Dave's untimely demise while crossing
the pond.
After touching ground in the hallowed homeland of
Christie, Sayers, and Peters, she checks into a cozy B & B run by
charming bibliophile Caldwell Perkins. Soon she's spilling tears in her
pint at the corner pub, sharing her heartbreak saga with a stranger.
That night, a B & B guest drops out of circulation—permanently. And
when Dave and his cutie turn up in London, Karen realizes they are an
assassin's target. With the meticulous attention to detail that makes
her a killer librarian, Karen sleuths her way through her own real-life
mystery—in which library science meets the art of murder.
Review: This won't be a very long review, because to be honest, I wasn't really a fan of the novel. I've been wanting to read more cozy mysteries and I thought this one sounded fun since I work at a library and I love all things England. There were aspects of the book that I found interesting, especially since I want to visit England someday. There is also a bit of a romance, which was cute. I'd love an English boy who adores books too!
However, the actual mystery kind of ruined it for me. I know cozy mysteries aren't as intense as other mysteries/thrillers, but I still like the guess-work and I just felt that this book didn't really deliver. Karen finds herself mixed up in the possible murder of a B and B guest, but she wasn't much of a detective. Plus, once the big reveals came about, everything seemed a little lukewarm. It wasn't nearly as exciting or shocking as I would have wished.
I'm still excited to check out more cozy mysteries though. This just wasn't the best fit for me, in the end!