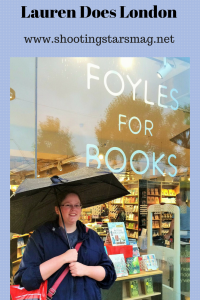 Hey everyone! If you've been reading my blog for awhile now then you might remember when I went to London, England…in September 2016. Yes, it's been almost two years and I never did share anything about it on the blog (though I did post a lot on Instagram at the time). I'm so sorry it's taken this long – there really is no excuse – but I am finally working on all my posts and reviews, and they will be coming shortly! These posts will all be tagged under the category Travel, in case you want to find them easier in the future, and I will be posting them here and there so don't worry, it won't be all London, all the time if you aren't interested!
Lauren Does London: It's time for the re-cap of my trip to London, England! Reviews, photos, and more! #londonengland #travel #ontheblog
Click To Tweet
The photo on the above image was taken outside a Foyle's Bookstore (I had to visit a bookstore!) and it was actually the evening we arrived in London; we didn't do anything too big that day but it was just so much fun to finally be in a city I'd wanted to visit for years. London had been on my bucket list for a very long time, and my sister said as soon as I graduated from Grad School, that me and her would go, so we planned it and then my aunt asked my mom if she thought we'd mind them tagging along. My mom never thought she'd visit England, so of course we had to say yes, and the four of us ended up going together – except we did split up a lot since my sister and I had our own specific plans. We stayed for a week, and it was seriously not long enough! I'd love to go back someday.
All four of us stayed at the Conrad London St. James (it's a part of the Hilton family) and it was such a wonderful hotel to stay in. Before my aunt and mom decided to come, my sister and I didn't have a set hotel picked out yet but we did have a certain amount of money we were looking to spend. My aunt actually chose this hotel and she offered to pay whatever we couldn't afford (basically we pay what we already had budgeted and she'd cover for the rest). I'm telling you this to be completely honest about our accommodations, because I know it can be expensive to stay in a big city like London. If you can stay here though, I do recommend it!
Now that I've introduced my new "series", be on the look out for future Lauren Does London posts (it probably won't say this in the title; but again, all the posts will be tagged under Travel!)
Tell me: Have you been to London, England? Thoughts? Would you go back? If you haven't, do you want to go? What do you want to see?
Let me know if you have any specific questions about my trip and I'll be happy to answer them!