One of the last gift guide suggestions I recieved was for affordable vintage items, especially if it was a shop that sold other vintage items. I went to Etsy for the following gift guide as they are a great place to find fun, reasonably-priced vintage items. Please leave your other gift guide suggestions in the comments as well!
Vintage Childs Wooden Hanger– Doll Face
Buy it from the Etsy Shop IvoryBird for $14
From the Site: The sweetest little wooden hanger. The color is a charming turquoise and the little doll face is very dear. Good vintage condition showing age appropriate wear.
Does This Shop Have Other Vintage Items? Yes, a lot and quite a variety!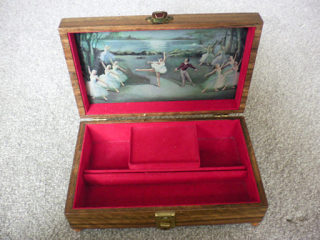 50s Wooden Swan Lake Music/Jewelry Box
Buy it from the TheVintageRoma for $24.32 US dollars (15 pounds I think…)
From the Site: gorgeous wooden quality jewelry box ( musical )
with a lovely swan lake painted scene on the inside of the lid . inside is lined in red velvet with lots of room for all your favourite pieces
Does This Shop Have Other Vintage Items? Yes, particularly other vintage jewelry boxes and scarves.
Vintage Red and White Striped Dress with Long Sleeves (1960s) – Mod Large Medium
Buy it from OddsandThreads for $28
From The Site: This fantastic little dress is a tomato red color with white stripes on the torso. Sleeves and skirt are solid red. Zips from center back to the collar, and closes at the sleeve cuffs by a small pearly orange-red button. V-neck collar.

Does This Shop Have Other Vintage Items? Yes, a variety, but there are a lot of other vintage clothing, especially dresses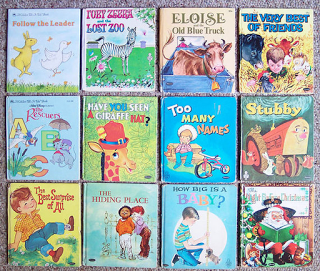 A Collection of 12 Vintage Children's Books
Buy it from cheaperbuythedozen for $18
From the Site: These used books are in good or better condition for their age. The covers are bright and colorful with some having general wear to the edges and spines. They are clean and presentable with no missing pages or loose bindings. We do not include books with badly scribbled, soiled, creased or torn pages though some minor forms of these imperfections may be present in a few

Does This Shop Have Other Vintage Items? Yes, but they are all collections of books…some range in prices as well, so you can get a collection of a certain 12 books for $12, etc.