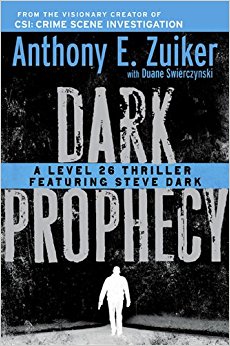 Level 26: Dark Prophecy by Anthony E. Zuiker with Duane Swierczynski


Review by Lauren


Source: copy from library; all opinions are my own


Official Summary: Steve Dark is a man with a unique talent for catching serial killers.
Now he's on a mission to embrace his destiny, unbound by authorities,
moral or otherwise, and supported by a mysterious benefactor with
unknown goals of her own.


Review: I read the first book in this series, Dark Origins, last year and really loved it. It took me awhile to read the sequel, but I'm definitely glad to have finally grabbed a copy. Now I just need to read the third and final book!
Back to Dark Prophecy though…this is a series about a man named Steve Dark who worked for a government department named Special Circs who hunted down the most horrific killers. Dark Origins was the first book in the series, as I stated above, and introduces you to Dark and his family. He is dealing with a psycho serial killer that seems to have it out for Dark. In Dark Prophecy, Steve is trying to change his life but it's not easy for him to walk away from his life's career.
Level 26 means a serial killer that is off the normal 1-25 chart the FBI keeps. They do not seem to kill for a particular reason; they change methods and places. I think the killer in Dark Origins was more freaky than Dark Prophecy, but it was still very interesting. Dark Prophecy deals with a killer the media soon dubs the Tarot Card Killer because they are staging the murders to look like the images on the cards. I thought this was really interesting and I was curious as to why this was done. Don't worry, you do find out in the end.
One of the most interesting aspects about these books is that they are digi-novels. You can visit the Level 26 website, click the book you read, and it takes you to a playlist on Youtube where you can watch videos. Throughout the book there are moments where they tell you to watch a video, so you know when to do so. I tried to keep up with the videos for the first book, but with the second book, I never really had time. I watched part of the first video, but so far, I have not checked out the rest. This doesn't take away from the book, of course. It's just an additional aspect for those that like something visual to go along with your books! Plus, the videos are really well done and have wonderful actors. These are not amateur videos.
I'm loving this series, and with only three in all, I do hope some of you will dive in and check these out!