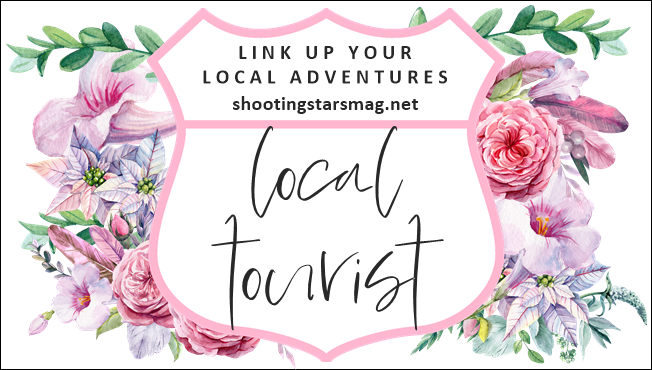 Oh thank goodness January is just about over. This month always feels really long, and I'm ready for a new one! Well, it's the final weekday of the month and that means it's time to look back on the local adventures we all went on. Please join myself and Dara from Not In Jersey. We'd love to have you!
Local Tourist: January 2020
Thursday, January 9: I attended a new-to-me book club this month with a friend and it was held at the Irish Heritage Center in Ohio. I'd been there once before to see a play. The book club venue changes every month, but it was fun to be at the Center for January. After our meeting some of us went into the pub – in the Center still – and listened to a guy sing for a bit. He was really good! The Irish Heritage Center used to be a school, and you can tell throughout the building – so it's a cool place to visit!
Saturday, January 25: My sister and I went to lunch at a place downtown Cincinnati called Pies & Pints. I'd never been, but it was really good. They have more than just pizza, but I got a basic pizza with gluten free crust and seriously – it's the best gluten free pizza I've had yet. So yummy!!! I will definitely go back.
After lunch, we met up with a friend and her boyfriend at the National Underground Railroad Freedom Center. I'd been in it really quick before, because my sister used to work there, but I'd never gotten a ticket and actually went through the exhibits. My friend hadn't been either and she wanted to see the new limited exhibit Motel X, so we all went and checked it out. We saw the main exhibit, that's always there, and then we went through one all about modern day slavery. It was really well put together, but definitely sad and upsetting.
After that, we went through Motel X, which was an extra $5 to see. There aren't a ton of rooms, but it's set up to look like a motel where someone would be if they were a victim of human trafficking. It's "interactive" in the sense that you can touch things. You can open the drawers, lift up the couch pillows, pull down the bed cover, and there are quotes and facts kind of hidden throughout these things. They give you a stress ball in the beginning, so you have it while you walk through, and then you can recycle it at the end if you like. It's an important exhibit, and I liked the various forms of art within it – a wire sculpture of a person, videos with people dancing, etc. It's a stark look at the reality of human trafficking, and it's so horrible to learn that Ohio has a lot of it.
Once we'd gone through that exhibit, we went to the second floor (everything I previously talked about was on the third floor) and we saw an actual slave pen, which is just really haunting to walk into. On that same floor, there's another little exhibit and then we saw a video narrated by Oprah Winfrey. That part was in a smaller room, and then a door opened, and we went into a bigger room that looked and sounded like you were on the banks of the Ohio River, and there was a mini movie about a couple men Oprah had just talked about. Both of them helped slaves escape across the Ohio River, trying to get them to freedom. It was really interesting, and if you visit, I definitely recommend watching.
All in all, we spent a couple hours there. You could definitely have stayed longer, but I think that's about the average time people spend when they visit.
Did you have any local adventures this month? Link up with us below!
You are invited to the Inlinkz link party!