Loose Cannon by Sidney Bell
Review by Lauren
Source: copy from Netgalley; all opinions are my own
Official Summary: Released after five years in the system for assault, streetwise Edgar-Allen Church is ready to leave the past behind and finally look to his future. In need of a place to crash, he's leaning on Miller Quinn. A patient, solidly masculine pillar of strength and support, Miller has always been there for him—except in the one way Church has wanted the most.
With his staunchly conservative upbringing, Miller has been playing it straight his whole life. Now with Church so close again, it's getting harder to keep his denial intact. As they fumble their way back to friendship after so many years apart, Miller struggles to find the courage to accept who he really is. What he has with Church could be more than desire—it could be love. But it could also mean trouble.
Church's criminal connections are closing in on the both of them, and more than their hearts are at risk. This time, their very lives are on the line.
Review: Loose Cannon was a good read, though it did feel a tad too long. Granted, I think that was due to the fact that it's setting up for the sequel. I'm not sure who the sequel will focus on exactly, but my guess is Ghost, who Church knows from a rehabilitation place called Woodbury (the title of the series). Besides this, I was very much interested in Church and his friendship with Miller. Of course, it leads to more, but it's not easy to for either of them. Church doesn't feel good enough, and Miller has a lot of ingrained homophobia from his late father – even though he knows there is nothing wrong with being gay and has no qualms about Church being so.
Loose Cannon by Sidney Bell is a good start to a new series - you'll fall for Church and Miller!
Click To Tweet
There is a mafia-esque aspect to the story that while still realistic in a sense, brings this story into a different genre than just realistic contemporary. At least in my opinion. All in all though, I liked this one!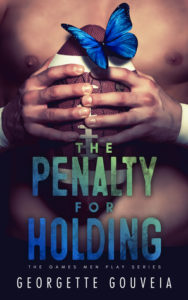 The Penalty for Holding by Georgette Gouveia 
Review by Lauren
source: copy from Netgalley; all opinions are my own
Official Summary: When the quarterback of the hapless New York Templars is injured, backup QB Quinn Novak takes the team to the playoffs. There he attracts the attention of two other quarterbacks who've been rivals since high school – Mal Ryan of the Philadelphia Quakers and Tam Tarquin of the San Francisco Miners. Quinn begins a volatile relationship with the narcissistic Mal and a loving one with the open-hearted Tam, keeping each secret from the other.
What he doesn't know is that the two have a complex sexual history of their own. Quinn will have to overcome a thorny present as well as a troubled past if he hopes to have a promising future.
Review: I gave this one two stars, but sometimes I think that's too nice. The Penalty for Holding is a difficult book to review. It's definitely a book that went in a direction I was not expecting. I will say that I didn't like the way it was written though – and the pace of the book was a bit too jumpy. There were moments in the book that seem to come out of the blue, without any specific explanation. I wasn't a fan of the ending either, because I just felt like it gave a bad representation of being gay. I can't really explain without spoiling the book, so I'll leave it at that.
There is also a case of domestic violence between two gay men that could have been great, but it was very lackluster. The topic wasn't focused on enough or fully addressed in the book, though there's a sense it will be in the future. It's a tricky topic, and it just didn't work for this book.
Obviously I finished the book, so it wasn't completely awful. There were moments that I enjoyed. I just felt like nothing really worked out in the way that I hoped/wanted. Definitely not something I can recommend, I'm afraid.