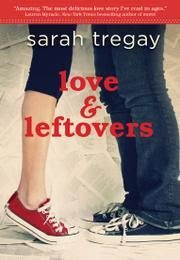 Love and Leftovers by Sarah Tregay
Publisher: Katherine Tegen Books
Age Group: YA, 13+
My Copy: ARC
Source: Publisher
Format: Hardcover, 448 pgs.
Release Date: 12/27/11—Out Now
—
Review by: Alicia
—
Summary:
My wish
is to fall
cranium over Converse
in dizzy, daydream-worthy
love.
When her parents split, Marcie is dragged from Idaho to a family summerhouse in New Hampshire. She leaves behind her friends, a group of freaks and geeks called the Leftovers, including her emo-rocker boyfriend, and her father.
By the time Labor Day rolls around, Marcie suspects this "vacation" has become permanent. She starts at a new school where a cute boy brings her breakfast and a new romance heats up. But understanding love, especially when you've watched your parents' affections end, is elusive. What does it feel like, really? Can you even know it until you've lost it?
Love and Leftovers is a beautifully written story of one girl's journey navigating family, friends, and love, and a compelling and sexy read that teens will gobble up whole.
Review:
Love and Leftovers may be a quick read, but it packs an emotional punch. There is a lot going on in Marcie's life: her parents are getting divorced because her dad is gay, she's been dragged away from her boyfriend and friends and is now staying in New Hampshire, and she's met a new boy. To say that there's drama in her life would be an understatement.
Marcie goes through a big emotional rollercoaster in Love and Leftovers. For the most part I liked Marcie, the only thing I didn't like about her were her decisions regarding her boyfriend and the new boy. But Marcie redeemed herself in that department by the end of the book. I was impressed by how much she matured throughout the book.
I am totally in love with the writing in the book and Linus' songs. All of the words felt like they were carefully chosen and everything was poetic and beautiful.
The ending left me feeling satisfied. I definitely recommend reading Love and Leftovers, especially to those who aren't fans of verse novels. I can't wait to see what Sarah Tregay comes up with next.
Cover Comments: So cute. And it definitely fits the book.
Overall: 4/5