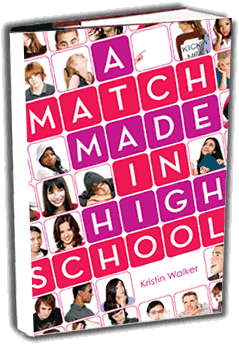 A Match Made in High School by Kristin Walker
Review by: Lauren
Book Source: From the Author
Summary (source):
When a mandatory course forces Fiona to "try the knot" with super-jock Todd Harding, she's convinced life couldn't get any worse. Until her crush is paired with her arch enemy (otherwise known as Todd's obscenely hot, slightly sadistic girlfriend). But that's nothing compared to her best friend's fate – a year with the very goofy, very big Johnny Mercer.
A series of hilarious pranks leave Fiona wondering: is there something her "best friend" hasn't told her? Could there be more to Johnny Mercer than an awesome music collection? And most intriguing, could Todd Harding have a heart beneath his pretty-boy exterior?
Review:
This is one of the most fun books I've read in awhile! When I say A Match Made in High School is laugh-out-loud funny, I'm not lying or exaggerating. I was around my mom a few times I read this book and she would just shake her head whenever I'd burst out in giggles. It's a really fun story but there is a lot of depth to the book.
I love that the characters are more than they seem. You don't just have the popular/dumb guy or the mean cheerleader or even the wallflowers that nobody cares about. They all have a story to why they are the way they are and it's great unraveling the mystery as you read.
Fiona is a believable girl, not always the nicest or most understanding, but with a huge heart underneath it all. The bickering between her and Todd includes some of the funniest moments and is sure to give readers many favorite quotes.
This a book that I would love to own the final copy of and not just an ARC. It's hard to buy every single book I want but Kristin Walker's debut is a sure-fire hit. The weather is getting warmer, so head to the bookstore and pick this one up. It'll have you smiling through the exams coming up for sure!
Kristin Walker Interview
By: Lauren
1. If you had to be matched up with someone from your high school to fake marry them, who would you pick and why? (You don't have to use real names!)
I'm sure I would've picked my high school boyfriend, just so we had an excuse to do stuff together.
2. What idea first came to you when writing this book? The overall storyline, a character, etc.?
The idea of a high school marriage education course was the first spark. Fiona's character fell in line soon after that. And I had a vague idea of the overall storyline around then, too. I knew I wanted to turn some stereotypes upside-down, so I tried to head in that direction.
3. What about being a debut author do people not realize?
We're not millionaires. Many of us (in YA, at least) probably don't make enough from our first book to buy a new car. For some, not even a used one. But most debut authors will tell you that it's not about the money. It's all about getting published. Everything else is gravy.
4. If the book wasn't A Match Made in High School, what would it be called? What's at least one song that would fit the book?
The original title of the book was Marriage Ed., which honestly, was the file name I saved the manuscript under. I'm pretty lousy at thinking of titles for myself. I can do it for other people, but not for me. I think that when I'm so deeply involved in the details of a story, it's hard to think of something that sums up the whole thing. Razorbill came up with A MATCH MADE IN HIGH SCHOOL, and I love it.
One song? Has to be something from the White Stripes. Either Fell in Love With a Girl or We're Going to Be Friends.
5. If you could wish on a real shooting star, what what it be and why?
I've wished on so many! I'm pretty sure some were airplanes, though. Discounting the obvious answers like world peace and an end to hunger, I'd wish that my kids lived long, healthy, happy lives, and that I didn't screw them up too much.