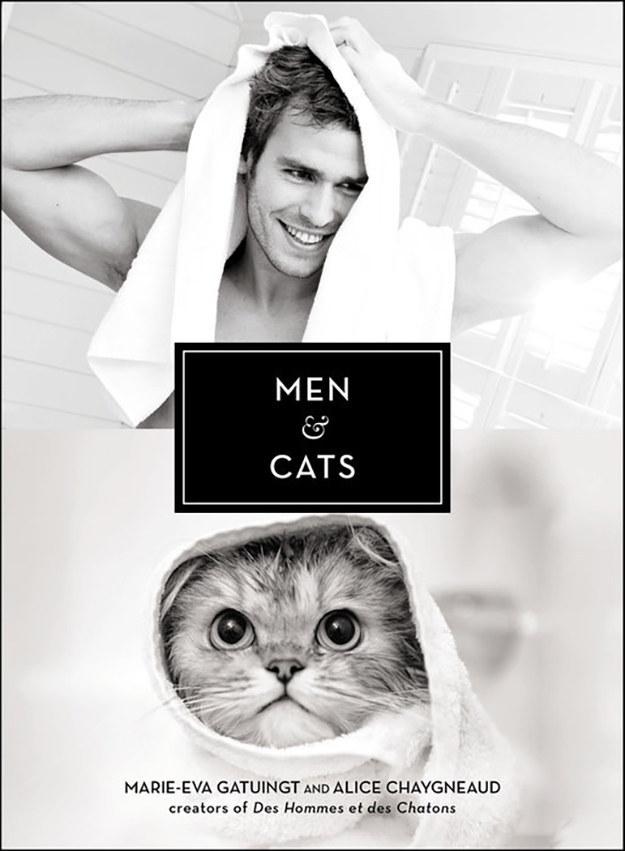 Men and Cats by Marie-Eva Gatuingt and Alice Chaygneaud


Review by Lauren


source: book sent for review; all opinions are my own


Official Summary: A brilliant collection of photographs that brings together two of the world's favorite things: hot men and cute kittens.
Based on the chic French Tumblr Des Hommes et des Chatons, Men & Cats presents
an original collection of 50 pairs of sexy men and adorable cats. Each
clever match-up shows a heartthrob posing alongside a cat in a similar
pose or with a similar expression. Not sure if you want to look at sexy
men or cute cats? With this book, you don't have to choose.
Review: Happy Thanksgiving to my fellow American readers! I figured no matter where you live, most of us can agree that men and cats are some adorable creatures. Now put them together, and we have something amazing! Gatuingt and Chaygneaud are two women from Paris, France who created the Tumblr Des Hommes et des Chatons and that is how this book was created. If you're looking for something intellectual, then this won't be for you – but if you want something fun and cute to look at, then you are in the right place!
Each spread of pages are set up the same, with a picture of a very good looking man on the left and adorable cat on the right, both of them with similar poses! Some of these pictures are really amusing when it comes to showing how similar the cats and men seem to be posing, while others have a little leeway. Regardless, these are some great photographs and it was fun flipping through this book. It's almost like a coffee table book, as it's just the photographs and no text, except it's in a much smaller size. Perfect for packing along to a girl's night or to gift to a friend!
The style of the book is nice because while the cover is in black and white, not all the pictures are! Plus, all the pages have a bit of a silky feel. I never know how to explain this, but it makes the book feel more meaningful and something you want to keep in good condition. Overall, I enjoyed this one! Know anyone getting married soon? This might be a fun gift beforehand!