Complicit by Stephanie Kuehn


Review by Lauren


Source: Netgalley; all opinions are my own


Official Summary: Two years ago, sixteen-year-old Jamie Henry breathed a sigh of relief
when a judge sentenced his older sister to juvenile detention for
burning down their neighbor's fancy horse barn. The whole town did.
Because Crazy Cate Henry used to be a nice girl. Until she did a lot of
bad things. Like drinking. And stealing. And lying. Like playing weird
mind games in the woods with other children. Like making sure she always
got her way. Or else.
But today Cate got out. And now she's coming back for Jamie.Because
more than anything, Cate Henry needs her little brother to know the
truth about their past. A truth she's kept hidden for years. A truth
she's not supposed to tell.
Review: This is such a fascinating psychological read. Jamie has a lot of issues with his nerves and without his sister in the house, messing up their "ideal" family, things seem to be getting better. Except things aren't as perfect as they seem. Jamie and Cate were adopted by a family who lost their own little boy and girl, and now these two kids are mean to fill in the gaps. Jamie adapted as well as he could, but Cate fought back in a variety of ways.
From the beginning, you know something is up with Cate. You know she is out of juvenile detention and looking to tell Jamie the truth about their past. What that past is? Jamie isn't sure. However, I was fairly certain I knew the answer as the book continued, and I was correct. Now, I may have guessed one of the surprises, but I didn't expect the end of the book. That definitely had me a bit shocked.
Complicit is my first book by Kuehn, but I'd happily read her debut and anything else she releases in the future. She created a nice mystery with an intriguing look at mental illness and how having certain kinds can harm others. I read this book before I learned about Mental Health Awareness Month, but I think it's a great novel to read if you wish to know about some less-known mental illnesses. Sometimes mental illness hurts, but it's something that should be addressed more so people can get the help they need.
Overall, a really good book that I would definitely recommend. Not all the mysteries were shocking to me, but that didn't lessen my interest in what would happen next.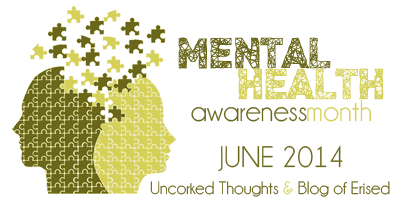 I am linking up at Blog of Erised for the Mental Health Awareness Month book reviews.