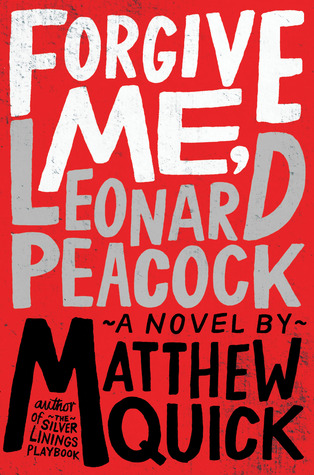 Forgive Me, Leonard Peacock by Matthew Quick


Review by Lauren


Source: personal copy; all opinions are my own


Official Summary: Today is Leonard Peacock's birthday. It is also the day he hides a
gun in his backpack. Because today is the day he will kill his former
best friend, and then himself, with his grandfather's P-38 pistol.
But
first he must say good-bye to the four people who matter most to him:
his Humphrey Bogart–obsessed next-door neighbor, Walt; his classmate
Baback, a violin virtuoso; Lauren, the Christian homeschooler he has a
crush on; and Herr Silverman, who teaches the high school's class on the
Holocaust. Speaking to each in turn, Leonard slowly reveals his secrets
as the hours tick by and the moment of truth approaches.
Review: I've owned this book for awhile but I finally had a good chance to pull it out and read it when I learned about Mental Health Awareness month. I would say, in all, Leonard suffers from depression. There are things in his past that haunt him and make going through the day difficult. He might have four gifts to give to people before he kills his ex-best friend and then himself, but most of these people are not truly close to Leonard. I suppose his next door neighbor, Walt, understands him the most, until he starts to talk to Herr Silverman more on the day of his life and death. While they may see aspects of Leonard that others do not, it's a sad replacement for a family member or friend that truly knows you and loves you. Without someone to rely on, and a dark secret weighing him down, Leonard believes that this is his only option.
I honestly had no idea why Leonard was so desperate to kill his ex-best friend until it was finally revealed in the novel. I don't want to talk about the moment because it's better to be shocked and it's definitely best to feel like you are finally pulling back enough layers of Leonard to grasp where he is coming from. People often say they can't believe that someone would want to kill themselves, but it's not something that really confuses me. I can understand how someone would reach such a dark place that they felt there was no other way. They can't see to the future and to the good that could come. I'm sure it's a horrible feeling and I wish more people could get help before resorting to suicide. Depression, mental illness. It all needs to be discussed more and become less stigmatized.
In this novel, people care about Leonard, but in various ways. It's difficult sometimes to know what someone needs to survive, and you can't be anybody's one savior. However, reading this book definitely made me want to reach into the pages and get Leonard help. I wanted him to talk to someone, open up, and realize that the future is waiting for him. The book is not depressing overall. There is hope, there is love. I wasn't entirely pleased with the very end, but it was essentially realistic. Not every story has a happily ever after, but that doesn't mean it's fully dark either.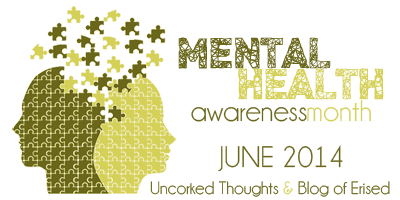 I am linking up at Blog of Erised for Mental Health Awareness Month