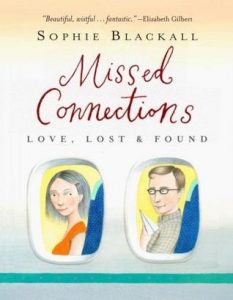 Missed Connections: Love, Lost & Found by Sophie Blackall
Review (add to Goodreads): Have you ever heard of the Missed Connections section on Craigslist? Basically, it's where people go to write about a person who they could have talked to and didn't, or where they did talk to someone but didn't get a number. They often say where they were, what they were wearing, what they talked about, etc. The hope is that the person you are referring to will be reading these online and recognize themselves or the encounter and reach out. That doesn't usually happen, but it's a nice thought, isn't it?
Missed Connections: Love, Lost & Found - new #bookreview #ontheblog
Click To Tweet
Sophie Blackall came across these and found herself fascinated by the various messages that people left. She decided to start illustrating some of the missed connection stories and sharing them on her blog. It soon became a hit and Missed Connections is a book of her artwork. Each page includes the Missed Connection that was posted online along with a drawing that Sophie made depicting the encounter. A lot of the time, you can't tell the gender of the people in the story – unless the person writing leaves their name. I liked this because it allowed Blackall to create drawings with a variety of people. Men and women, men and men, women and women. People of different backgrounds and hair color. You get it all, and it shows that anyone can have a missed connection.
While some are a bit sad, as you wish the person writing could find their missed connection, most of them are just lovely little tales with beautiful, almost whimsical, illustrations. The book is relatively short, and I wish there were more, but overall, it was a lovely book!
Read an e-library copy; all opinions are my own