Loving Luke by RJ Astruc


Review by Lauren


source: copy from Netgalley; all opinions are my own


Official Summary: Peter Fritz has developed a morbid streak during the school break, and
Anthony Parker and his best friend Rafe wonder why. They soon learn
Peter met a boy named Luke on the Internet, and Peter and Luke had an
online relationship before Luke died of AIDS.
Parker and Rafe turn to the Internet to learn more about Luke. There,
they find many more questions than answers about their friend's online
relationship—and Luke himself.

Review: Okay, maybe I should research titles more often but I do think publishers and authors on Netgalley should put more details into their book summaries. Apparently Loving Luke is a novella that takes place after a completely different book. Regardless, it wasn't that difficult to follow the story or characters. I just wish I had known. Since Loving Luke is a novella, I felt it went a bit too fast to really invest in the characters. Also, the story seemed a bit over-the-top in some ways. Peter is upset because his boyfriend died from AIDS- that's the over-the-top part because it just seems like Peter should have realized something was up when he hears this about his completely online boyfriend. Of course, Anthony – someone who knows Peter from school – begins to realize something is weird about this Luke and enlists his own best friend Rafe to help uncover the truth. Not a bad novella, but might be better if read after a full length story with these characters and not as an introduction.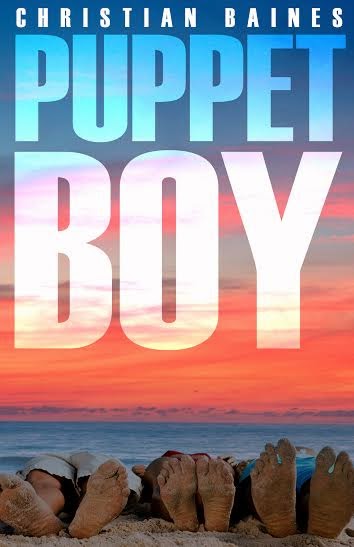 Puppet Boy by Christian Baines


Review by Lauren


source: copy from Netgalley; all opinions are my own


Official Summary: A school in turmoil over its senior play, a sly career as a teenage
gigolo, an unpredictable girlfriend with damage of her own, and a
dangerous housebreaker tied up downstairs. Any of these would make a
great plot for budding filmmaker Eric's first movie.
Unfortunately, they're his real life.
When Julien, a
handsome wannabe actor, transfers to Eric's class, he's a distraction, a
rival, and one complication too many. Yet Eric can't stop thinking
about him. Helped by Eric's girlfriend, Mary, they embark on a project
that dangerously crosses the line between filmmaking and reality. As the
boys become close, Eric soon wants to cross other lines entirely. Does
Julien feel the same way, or is Eric being used on the gleefully twisted
path to fame?
Review: Based on the summary, I figured this would be a bit of a wild ride. Boy, I was not wrong. It was kind of crazy and intense – and not always in a good way. I honestly can't say too much without completely ruining various twists and surprises in the book. If you're curious about this one, I don't want to be the spoiler who ruins it for you. However, I will say that this was not my most favorite book. I probably would have DNFed except I was fascinated enough by all the craziness to want to know what was happening.
The characters are interesting – if not all that likeable all the time – and the writing was done well. I was really shocked by a big twist near the end, except it made me question certain parts of the story. I would like to have had those moments explained further with the truth in the foreground, but alas, I did not get all my questions answered.
Overall, I'd be curious to see what else the author writes, but I won't be recommending this one!