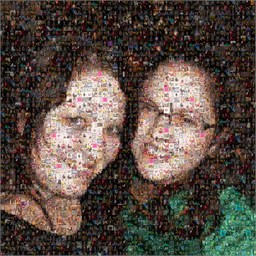 I was contacted by the website, Mosaically, to check out their product and offer my readers a giveaway. As you can hopefully see by the above photo (and their name) Mosaically makes mosaics from your own photos. The best way to go about this is to upload your main photo and then all the other photos you want that main photo to be made from. Since I didn't have time to do that yet, I went with their facebook option. This means that you log into your facebook from the site and they take your profile picture for the main photo…and the photos that make up the main one are taken from your profile, as well as your friend's profile pictures.
I wouldn't recommend the facebook route to everyone…if you're going to actually purchase your print, it's nicer to have chosen the actual photos you want. Another reason the facebook mosaic isn't the best is because my facebook page is a mix of personal/business/bloggers so some of the profile pics of "friends" are really blogger buttons, etc. Regardless, the facebook mosaic is a great way to start and see how it all looks when finished (it takes them about three hours before the mosaic will be loaded onto your personal mosaically page).
To see my facebook mosiac clearer, visit this link. If it works, you should be able to make the mosaic bigger to see the smaller pictures. If you double click on a smaller photo, it will appear larger over the mosaic so you can see that photo clearer.
I do like the idea of mosaics and I think they would make wonderful gifts. Wedding and graduation season are both coming up, and I think a personalized mosaic would be a fantastic gift for either occasion!
And now, it's time to enter the giveaway. You are entering for a 30×20 mosaic print. This is a $62.50 value. HOWEVER, if you win, you have to pay for your own shipping ($10) and this is only open to those in the U.S. The code will be sent to your email (once you confirm the win) by me, but I am not responsible for your subsequent experience.


Please enter only if you are 13 years of age or older.
Giveaway ends March 15 at 11:59 p.m. EST

Please use the rafflecopter below to enter. If you have trouble, let me know.