Happy Valentine's Day! I'm excited to take part in the Movie Night Giveaway Hop, and I think it's fitting that it starts on Valentine's Day because I LOVE movies. As I'm also celebrating #FebruHARRY2018, I thought I'd mix the two and do a fun Movie Night giveaway related to Harry Potter…and it's probably not what you think, so read on for more details!
Movie Night Giveaway Hop: One movie + Butterbeer Fudge #giveaway #februharry2018
Click To Tweet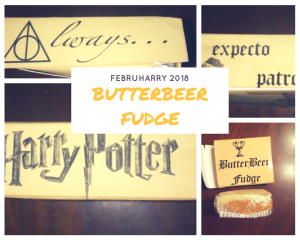 First up is a 1/2 pound of Butterbeer fudge from the lovely Etsy shop A Taste of Sugar Bakery. I was given the chance to review this fudge, and believe me, it's so tasty. I made the above image to show you how the little box is decorated. I love that there are Harry Potter references on the front, back, and sides. It's so cute and really fun packaging.
As I mentioned before, this fudge is so yummy. A little goes a long way, so it's nice to savor for awhile – or share during a fun movie night! The taste is essentially a butterscotch, and it's so tasty! I highly, highly recommend checking it out. You can purchase a 1/2 pound or a full pound!
To go along with your butterbeer fudge, I'm offering a movie of your choice. The catch? It has to star an actor or actress from the Harry Potter films. You don't have to choose an HP movie. For example…maybe you want The Bling Ring with Emma Watson or Love Actually with Alan Rickman, etc. It's up to you! It just can't go over $15. Besides that, anything goes!
Before we move on, I want to let you know about a fun coupon code a Taste of  Sugar Bakery has offered: SHOOTINGSTAR15 which gives you 15% off you purchase with no minimum
It's Giveaway Time!
-open to U.S. only (18+)
-Butterbeer fudge is being offered by the Etsy shop; I will pay for the winner's shipping though as that's not included
-not responsible for any lost/broken items in the mail
-Giveaway ends February 28
Be sure to check out all the other giveaways happening too!

<!– end InLinkz script —