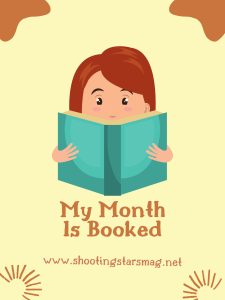 Welcome to the August edition of My Month is Booked. Please link up book reviews or book review round-ups in the linky below! I hope you had a great reading month. Thanks to everyone who shares and links up with me every month.
My Month Is Booked: August 2023

Love & Other Disasters by Anita Kelly
Love & Other Disasters is another book I read on vacation and in honor of Pride Month! ☀️🌈 (aka back in June!)
Dahlia is queer and newly divorced, while London is non-binary and ready for everyone to know their true self.
The two meet on a reality cooking show and fall for each other. 🧑‍🍳 I love books that deal with cooking or baking, and this was another winner.
I loved that while neither character is perfect, they both grow and change and become better versions of themselves. 💜
I also really loved London's sister! She was great!!!
View this post on Instagram

Part Of Your World by Abby Jimenez
I read Part of Your World in less than 24 hours and I loved it!  ❤️
One thing I loved is that there are two POVs; it's not just the female POV. That helped me really get to know these two and root for them.
There are discussions of DV, so please check trigger and content warnings!!!
Personally, I thought it was handled well in the book but it's also not something I've personally been through.
Some fun things to expect:
🎉 City life vs Country
🎉 Some awesome best friends
🎉 Age- gap romance where the woman is older
🎉 A really adorable dog
🎉 Some moments that may or may not be magic or fate
View this post on Instagram

Yours Truly by Abby Jimenez
I am a Abby Jimenez convert for sure. 🙌🏻
Yours Truly is a companion novel to Part of Your World and I absolutely loved it. ❤️ Thank you to my friend, Alexis, for buddy reading with me. It pushed me to pick this one up quicker and I gave it five stars in the end.
I loved the two main characters and that it gave you both POVs. I loved the discussion on anxiety and mental health. There was so much I could relate to!
And the letters the two exchange when getting to know each other were chef's kiss! 😘 Seriously- adorable and funny and that really describes a lot of this book.
View this post on Instagram

Teacher of the Year by M.A. Wardell
Teacher of the Year by M.A. Wardell was such a good read. I loved this kindergarten teacher/single dad m/m romance. I cannot wait for the author's next book, coming later this year!
Things to expect when reading this one:
✏️ One POV
✏️ Spicy scenes
✏️ Talk about addiction and recovery, particularly alcohol abuse
✏️ Mental health rep!!
✏️ Diversity in race and sexuality
✏️ An adorable five-year old girl
View this post on Instagram

I Have Some Questions for You by Rebecca Makkai
I Have Some Questions for You feels like a mystery but is classified as literary fiction. I say this only because the book doesn't wrap up like a typical mystery novel. Despite that, I still liked the ending and felt it worked well.
This was a fast paced read for me. I wanted to know more, so it kept me reading. 📕
I am trying to focus on more of my BOTM picks, so this is another crossed off the list!
View this post on Instagram

You're Not Supposed to Die Tonight by Kalynn Bayron
copy for review; all opinions are my own
You're Not Supposed to Die Tonight by Kalynn Bayron was a wild ride!
This YA novel takes place at an old summer camp where guests pay to essentially be scared out of their minds! 😱 Charity is the manager and the Final Girl each night- the one worker who survives the night.
Unfortunately, the workers start to get a scare of their own when some of their colleagues go missing. With no adults present, it's up to Charity to lead her team – and keep everyone alive. 💀
This book took some crazy turns! I won't say it's terribly realistic but that's the fun- it's like an old horror movie come to life. 🎥 And the ending! Just wow! ❤️
A fun, fast read for the summer! Plus, it includes a sapphic romance. 🌈
View this post on Instagram
And that's it from me! I'll have some individual book review posts throughout August so keep an eye out. Have you read any of these? Are you interested?  
You are invited to the Inlinkz link party!