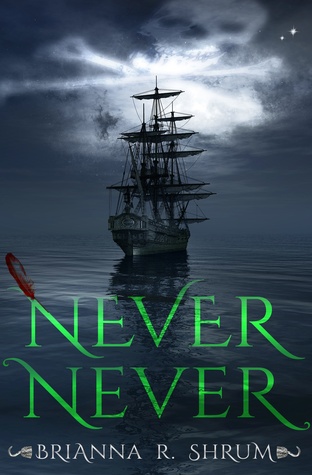 Never, Never by Brianna R. Shrum


Review by Lauren


source: copy from Netgalley; all opinions are my own


Official Summary: James Hook is a child who only wants to grow up.

When
he meets Peter Pan, a boy who loves to pretend and is intent on never
becoming a man, James decides he could try being a child – at least
briefly. James joins Peter Pan on a holiday to Neverland, a place of
adventure created by children's dreams, but Neverland is not for the
faint of heart. Soon James finds himself longing for home, determined
that he is destined to be a man. But Peter refuses to take him back,
leaving James trapped in a world just beyond the one he loves. A world
where children are to never grow up.

But grow up he does.

And thus begins the epic adventure of a Lost Boy and a Pirate.

This
story isn't about Peter Pan; it's about the boy whose life he stole.
It's about a man in a world that hates men. It's about the feared
Captain James Hook and his passionate quest to kill the Pan, an
impossible feat in a magical land where everyone loves Peter Pan.
Review: To be honest, I have never read the original Peter Pan story. I have seen various film adaptations of it though, so I was really excited about reading a book that focuses on a young James Hook who is essentially lied to by Peter Pan. If you want a book where Pan is a lovable boy, then don't read this book. Pan is not someone to admire in this story. The question though – is James?
Never, Never was an atmospheric novel with some great characters. You don't really get to know many of them besides James Hook, but I felt like you knew enough about them to care about their feelings and their lives. Tiger Lily had a large role in the second half of the book. She is made to love Pan, but James can't help falling for her and that dynamic is very interesting.
This is a dark novel, full of action and mixed emotions. I do think it was a bit long in parts, but then again, I read this as an e-book and I think physical novels tend to go faster sometimes. It all depends! Despite it feeling long, I can understand how everything works and nothing felt unneeded.
Never, Never was an exciting adventure story and I am curious to see what everyone else thinks, so share your thoughts below!